Argentine minister refers to Malvinas as Falklands, and triggers a political storm
Friday, April 6th 2018 - 08:00 UTC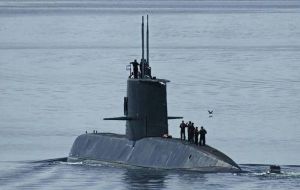 Argentina's Defense minister has sparked a political storm after appearing to imply the Falkland Islands are British. Oscar Aguad has been accused by the Buenos Aires media of suggesting that the Islands were not part of Argentine territory.
Aguad made the huge diplomatic gaffe when referring to the search of the missing submarine for ARA San Juan, by using the British term for the islands Falklands instead of Malvinas.
Speaking about the search for the vessel, which disappeared off Argentina's coast last November, the minister said the submarine did not sail near the Falklands.
He told reporters: "ARA San Juan did not even come close to the Falklands. It was in the Argentine Sea, in our sub-continental platform.
"It had a mission, a military exercise in the South of Argentina, near the Island of the States. "Its mission was to observe, which is normal for a submarine."
Despite the long standing Argentine claim over the Falklands' sovereignty, in March 2013, the Islands held a referendum and voted overwhelmingly to vote to remain as a British Overseas Territory.
However since president Mauricio Macri was elected president in Argentina, relations referred to the Falklands/Malvinas issue have improved considerably compared to the previous governments of the Kirchner couple which was intent in strangling the Islands economy and development possibilities.