Icebreaker Irizar returns from its first Antarctica campaign in ten years
Thursday, April 12th 2018 - 07:57 UTC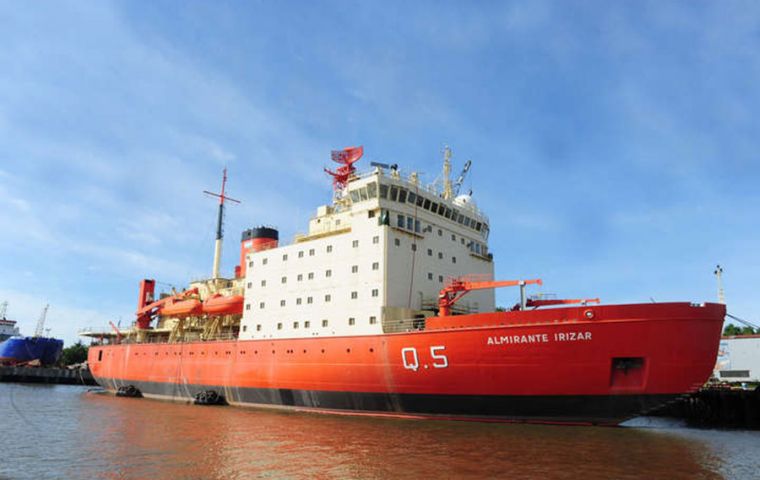 Argentina's icebreaker Almirante Irizar is back in Buenos Aires at the end of its first Antarctic campaign in ten years, following the fire that almost knocked the Finnish built vessel out of action. She left on 26 December and completed 107 days in the high seas and Antarctica's ice.
The refurbished Irizar which has an average crew of 103, also transported military, civilian and scientific personnel totaling 286 people, and spent its time supplying Argentine bases and stations, doing scientific research and changing shifts. Some 700 people are estimated to have travelled in the vessel this summer season.
At the start of the campaign in early 2018 the icebreaker called in Ushuaia, then travelled to Marambio, Petrel and Camara bases in the Antarctic continent and then to Belgrano II base in the South Orkneys, which apparently hadn't been visited since 2014
Almirante Irizar sails under the command of Captain Maximiliano Mangiaterra, a veteran of twelve Antarctic campaigns, including seven with the rebuilt icebreaker in which he was sailing when it caught fire a decade ago.
Besides scientists which are involved in several research projects at the new lab facilities, passengers included a special group responsible for the Sea King helicopters, a team engaged in the unloading of provisions and equipment and collection of material from the bases, and permanent staff for the Esperanza, Petrel, Belgrano II bases and the Groussac station.
Engineers responsible for the maintenance and updating of seismographs in six of Argentina's bases, and Air Force personnel in charge of the met centers at the bases were also among those transported by the icebreaker as well as staff from Argentina's National Antarctic Directory, which travelled to Italian, Australian and Czech bases.
Finally on docking in Buenos Aires on Wednesday, Captain Mangiaterra was quoted saying, "now I can say it was a successful campaign, we completed all the objectives planned and the Irizar's response was impeccable"