Argentina's inflation hard to beat: "inflation has to fall a lot in May"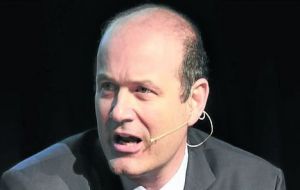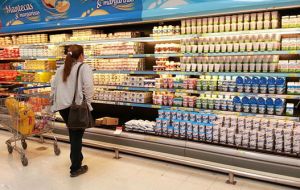 Argentina's central bank would raise interest rates if inflation does not fall "a lot" beginning in May to a level consistent with its 2018 target for a 15% rise in consumer prices, central bank Governor Federico Sturzenegger said on Monday.
Sturzenegger said a 3.1% average monthly increase in regulated prices in the first four months of the year had contributed to disappointing monthly inflation readings, but that regulated prices would rise just 1.5% on average per month from May through December.
"Inflation has to fall a lot beginning in May" to meet the 15% target Sturzenegger said at a press conference. "If that scenario does not play out, we have to do what we have to do, which in this case is raise the interest rate."
Consumer prices rose 2.3% in March, bringing the 12-month inflation rate to 25.4%. Last week the central bank held its benchmark interest rate at 27.25%, arguing that the pickup in inflation during the first few months of the year was due to "transitory factors."
Private economists polled by the central bank expect 2018 inflation of 20.3%. President Mauricio Macri's government has reduced subsidies for energy consumption and transportation in order to reduce the fiscal deficit, but those regulated price hikes have complicated efforts to reduce inflation.
In related news Finance minister Nicolas Dujovne said the consumer price inflation rate in Argentina should be "much lower" as of May compared to the first months of 2018. In March the Consumer Price Index (CPI) rose 2.3% over February and year-to-date, consumer price inflation rose 6.7% in Argentina.
"In March we had a high figure, but that was expected. We knew that these first months of the year would be like that, we are going through a hangover, but it was expected," Dujovne said in an interview with Radio Mitre.
Meanwhile, the official said that the inflation target for this year (15%) would not change. "The disinflation process is not in doubt neither for us nor the private sector. Almost all agreements between workers and employers are closing around 15%," he said.
The minister also highlighted that the March inflation had an "additional impact" due to the drought suffered by several provinces, "since it brought the price of Argentina's food products higher."