Falklands' HMS Clyde replacement delayed because of post-Brexit defense duties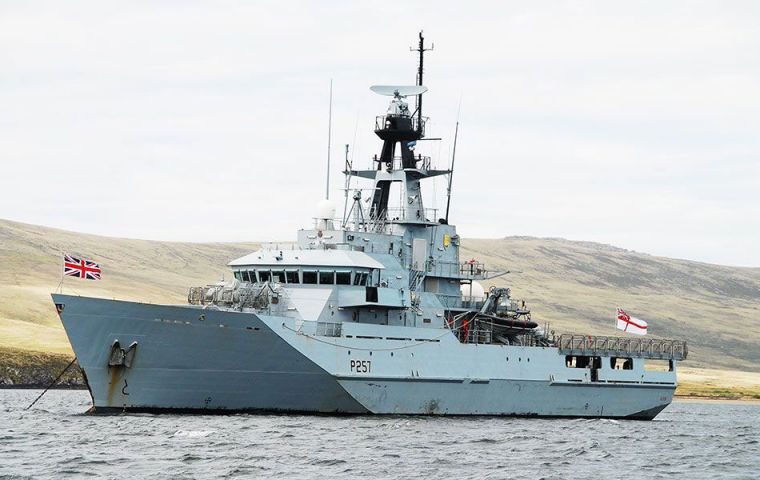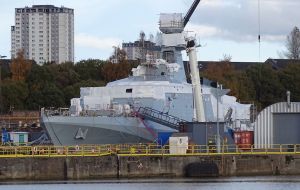 The Daily Mail has reported that the Royal Navy is to keep old offshore patrol vessels it was due to decommission to ensure it has enough vessels to police Britain's borders after Brexit. This allegedly means the Falkland Islands patrol HMS Clyde, which was to be replaced by HMS Forth from the new batch of patrol vessels and which is scheduled to become active operational next September, will remain in service in the South Atlantic.
Ageing offshore patrol vessels had been due to be scrapped next year after replacements are commissioner. But both Batch 1 and Batch 2 ships will now stay in service, except for one of the old ships, HMS Severn, which has already been decommissioned last year.
They would bolster the maritime defense with their presence and increase the overall number of warships capable of patrolling Britain's coastal shores at any one time.
Rear Adm Gardner said the Navy is 'very keen' to keep the ships but said currently it has only drafted contingency plans to keep them in service should the government ask.
A £12.7 million fund has been allocated by the government from the EU exit preparedness fund to preserve the fleet should they be required after Brexit. 'I'm keeping the ships in a state of operational readiness'.
'[This means that] as the future becomes a bit clearer post-Brexit, and as our requirements are more broadly understood, we will be able to make decisions about whether or not we will seek to retain and operate them as additional units in the Royal Navy or find some other solution.'
Batch 1, built fifteen years ago, was made up of four ships, however after HMS Severn was decommissioned last year only HMS Tyne, HMS Clyde, and HMS Mersey remain.
HMS Forth, of Batch 2, is due to be operational active by September. The majority of the remaining four batch two warships will join the fleet in 2019, with the last entering service in 2020.
Retaining the older OPVs would help to free up the more advanced Batch 2 patrol ships which can carry out duties such as counter-terrorism, counter-piracy and anti-smuggling operations.
Commander Sarah Oakley heads up the Royal Navy's fishery protection squadron, which seeks to enforce maritime laws in British waters and works closely with the Batch 1 OPVs. She said the fleet were 'absolutely vital' to the UK's defense and reach overseas.