Brazilian ex presidential candidate charged with passive corruption and obstruction of justice
Wednesday, April 18th 2018 - 18:16 UTC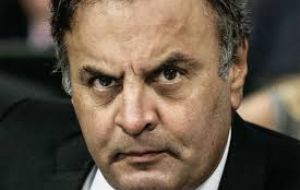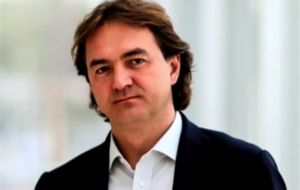 Justices from the First Panel of the Brazilian Supreme Federal Court (STF) voted, on Tuesday (17), accepting the charges filed by the Prosecutor General's Office against senator Aécio Neves (PSDB-MG), and former presidential candidate, accused of passive corruption and obstruction of justice.
The charges for the crime of passive corruption were unanimously accepted by the panel, composed of five justices. The charges of obstruction of justice were accepted by the majority of the panel, in a 4-1 decision.
In view of this decision, Mr. Neves has become a defendant in a criminal action of the Supreme Court for the first time, due to the event in which he was caught on record, in March 2017, asking Joesley Batista, owner of meat company JBS, for R$ 2 million (US$ 590.000).
The money was delivered in parts to people close to the senator, according to the prosecution. The Federal Police filmed the cash delivery to his cousin.
Aecio Neves ran for president and was defeated in the run-off in 2014 by ex president Dilma Rousseff. He was also the national president of his party, PSDB. He denies having committed any crimes and says the money was a loan from Mr. Batista.
Additionally to Aécio Neves, his sister, Andréa Neves, his cousin, Frederico Pacheco, and Mendherson Souza Lima, advisor of senator Zezé Perrella (MDB-MG), have also become defendants, but they only face charges of passive corruption.
Joesley Batista, the former chairman and chief executive of the world's largest meatpacker, JBS SA is in jail, charged last year with obstructing justice and insider trading.
The senator's defense claimed JBS' plea bargain was illegal because the production of evidence was guided by former prosecutor Marcello Miller. The former prosecutor is under investigation on suspicion of assisting the executives while he was still a member of the Federal Prosecution Office.
Neves, 58, who separately from the pending trial faces eight other investigations for corruption, was once a promising scion of a traditional political clan. His grandfather was Tancredo Neves, the first president elected after the 1970s-80s military dictatorship, who fell ill and died just hours before his inauguration in 1985.
Previously leader of the centrist Brazilian Social Democracy Party (PSDB), the scandal cost Neves his position and has hurt the party's standing as it heads into the 2018 election.
Under Brazilian law, federal lawmakers, members of the executive branch and thousands of other officials can only be tried by the Supreme Court.