UK welcomes Guatemala's referendum decision to take Belize's dispute to the ICJ
Wednesday, April 18th 2018 - 07:45 UTC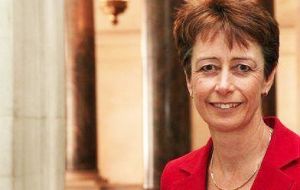 The United Kingdom has welcomed the result of April 15 referendum on taking Guatemala's territorial, maritime and insular dispute with Belize to the International Court of Justice in The Hague.
"We also congratulate the people of Guatemala for participating and demonstrating their commitment to democratic values. Through debate, discussion and deliberations, they confirmed that the ICJ route is the best way to resolve any differences. The British Government supports this process as the route agreed upon jointly by Guatemala and Belize", said UK ambassador to Guatemala Carolyn Davidson.
"We encourage the government of Belize to hold their referendum soon to maintain the momentum towards a lasting and peaceful solution to this dispute. Legal certainty between the two countries will boost peace, investment and social development".
Ambassador Davidson said the UK and Guatemala share a strong partnership based on a commitment to shared democratic ideals, human rights, and economic prosperity.
The United Kingdom reiterates its support for both countries in their efforts to make progress toward peace and effective implementation of confidence building measures.