US/China trade war reaches Midwest sorghum with tariffs of 178.6%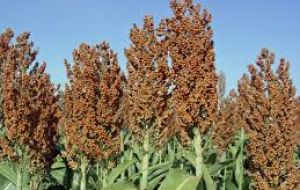 United States sorghum farmers fear they will lose their largest export market if China follows through with a tariff on their crop. China imposed preliminary anti-dumping tariffs of 178.6% on U.S. sorghum this week as part of its ongoing trade dispute with the U.S.
President Donald Trump has threatened to raise tariffs on up to US$ 150 billion of Chinese goods to counteract what he says are that country's unfair trade policies.
Sorghum farmers like Don Bloss in southeast Nebraska are caught in the crossfire. Bloss says the tariff news isn't enough for him to change what he plants this year, but farmers will have to adjust if the tariff is enacted.
Last year, Chinese buyers purchased more than 90% of the 245 million bushels of sorghum America exported.
Analysts said the temporary anti-dumping deposit imposed by China, which comes ahead of a possible anti-dumping tariff on the product, was quite high and that some US shipments in the future could be cancelled as a result.
The US claims that China has unfair intellectual property practices, such as those that have allegedly pressurized US companies into sharing technology with Chinese firms when doing business in the country.
US President Donald Trump is primarily using big trade threats aimed at China as a way to make it stop what he calls "illicit trade practices". In a move that was expected to appease the US, China said this week it would allow foreign ownership of car firms by 2012, changing the rules that require global carmakers to work through state-owned partners.
Beijing meanwhile continues to claim that the US is dumping products at cheaper-than-market prices into China, which is hurting Chinese farmers and manufacturers. It also says the US it is unfairly punishing it with tariffs, and has continued to say it is not afraid of a trade war.