Falklands celebrates the growing success of the tourism industry
Friday, April 20th 2018 - 13:45 UTC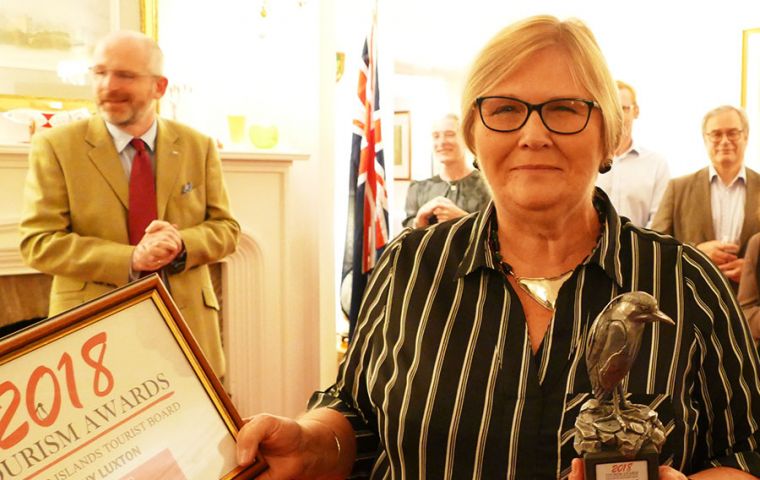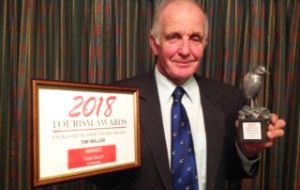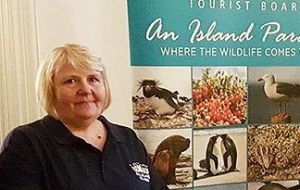 Government House was a welcoming venue on Tuesday night for the presentation of the Falkland Islands Tourist Board's annual awards. In addition to the hopeful contenders from across the industry there were most of the 28 newly qualified tour guides waiting to receive certificates.
While reviewing the growth of the industry in the Islands, FITB Chair Mrs Sally Ellis expressed the hope that in ten years' time tourism in the Falklands would have grown to the extent that Government House would no longer be big enough to hold the event.
HE the Governor Nigel Phillips pointed out that tourism was not only of great importance to the Falklands economy, but also as an effective means of changing perceptions and telling the Falklands story to the rest of the world.
The biggest cheer of the night greeted the announcement that Jenny Luxton had won the Executive. Director's Award for outstanding contribution to tourism.
Before Mrs. Luxton came forward to accept her award, along with a specially commissioned Steve Massam bird scultpture, FITB Executive Director Steph Middleton explained that Jenny's involvement in hospitality and tourism in the Falklands had covered several decades, beginning with the opening of Monty's Restaurant where Deano's Bar now stands and continuing through multiple seasons as manager of the Sea Lion Island lodge and, before and after that, many further years with Stanley Services as manager of their Island Holiday.

Tourism Awards 2018
Driver of the Year: Maurice Davis; Taste of the Falklands: Bittersweet; Visitor Experience: 74 Days to Victory; Tour Guide of the Year: Tim Miller;
Outstanding Customer Services: Bittersweet; Agency of the Year: Falkland Islands Holidays; Camp Accommodation offering best overall experience: Sea Lion Island; Stanley Accommodation offering best overall experience: Malvina House Hotel; Contribution to Tourism Award 2018: Jenny Luxton.

Tour Guides 2018
Ken Aldridge, Gary Clement, John Clifford, Anna Cockwell, Colin Davies, Rex Eagle, Moira Eccles, John Ferguson, David Ford, Debbi Ford, Simon Ford, Nyree Heathman, Craig Lewis, Kirsty Lewis, Ronnie Maclennan Baird, Gary McGill, Jeannie McKay, Linda McRae, Lara McToal, Leon Mitchell, Andrew Newman, Peter Roberts, Ronald
Roberts, Jenni Sol, Garry Tyrrell, Georgina White, Tara Wilson, Michelle Winnard. (Penguin News)