Falklands: "Commercial and cultural office" in Stanley to promote Argentina, suggests ex diplomat
Tuesday, April 24th 2018 - 23:21 UTC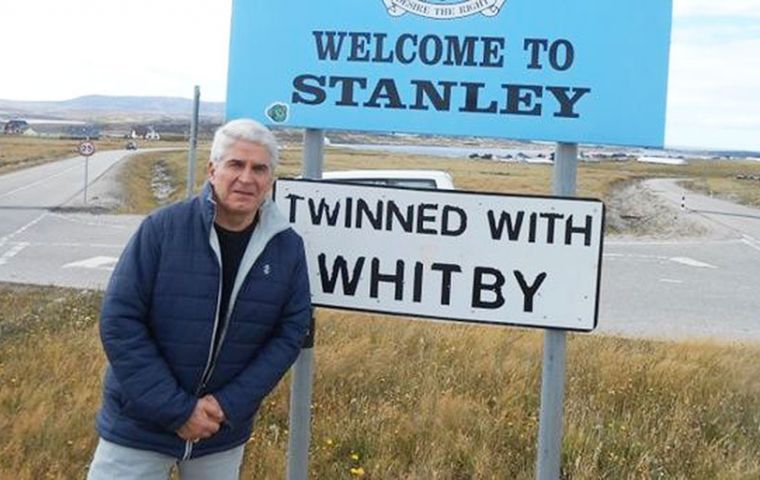 The Falklands population is crucial for any solution to the Argentine claim over the Islands given their overwhelming support from British public opinion (and political system), and its full integration with the 53-nation Commonwealth, according to Argentine ex diplomat Jorge Lidio Viñuela, considered an expert and militant on the issue of South Atlantic insular claims.
Given this scenario, Viñuela recalls that in only fourteen years time it will be 200 years since England took control over the Falklands/Malvinas (3 January 1833), "usurping" territory from the River Plate United Provinces. It would also be an excellent moment for the Crown, taking advantage of the anniversary, to decide the Falklands' independence, which could take Argentina totally by surprise and thus it must start working to prevent such a situation, with "concrete, effective and realistic" measures to sincerely extend amicable links with the Falklands' population, "the true protagonists of this colonial process".
Viñuela remembers that much of this happened during the sixties and seventies with for example many islands in the Caribbean which became independent from London: Trinidad and Tobago (1976), Santa ucia (1979), St Vincent & Grenadines (1979), Grenada (1974) and Barbados (1966), among others. And what about the international support for an independent Falklands? Far more than expected because of its close links with the Commonwealth, many of 53-nation organization will recognize the sovereignty of the new nation, and Viñuela then names a list of countries, Canada, Australia, New Zealand, Belize, Jamaica, Trinidad Tobago, Barbados, India, Nigeria and South Africa and recalls that during the 1982 conflict, Australia was effectively supportive of the UK Task Force, New Zealand cut diplomatic relations with Argentina, Canada withdrew its ambassador in Buenos Aires and publicly expressed support for Britain.
Likewise France and Holland with their own "Malvinas" colonial assets, and to remain coherent with their foreign policies, Viñuela speculates, they would support the new situation and even follow along similar steps, while the rest of Europe and even the United States, with time, would accept such a scenario.
So, what must be done? The former diplomat suggests setting up an office in Stanley, similar to that Argentina (and many other countries) have in Taipei, Taiwan which would operate under the pompous name of "Commercial and Cultural Office", with the purpose of besides promoting trade, encouraging close people-to-people relations in fields such as culture, sports, academia and inviting opinion makers from the Falklands to Argentina.
Viñuela names top of the list, Lisa Watson, Editor in Chief of the Penguin News, as well as obviously members of the Legislative Assembly.
Viñuela ends his piece "The independence of the Malvinas" arguing that it has been repeatedly proven that as long as Argentina continues to ignore the Islanders, the status quo will remain unchanged, "until one day we will read in the media, with stupor that the Malvinas have declared independence from the British Empire, remaining in the British Commonwealth of Nations.