Falklands operating budget surplus keeps increasing
Friday, April 27th 2018 - 09:01 UTC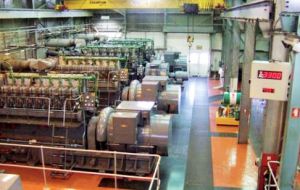 The Falkland Islands forecast operating budget surplus for the current financial year sits at £33m, Standing Finance Committee (SFC) was told on Wednesday. The surplus, up from the previous forecast of £27m, has been boosted by fishing company corporation tax payments, which have been "significantly higher than budget."
The operating budget forecast has also been adjusted to reflect the, "low likelihood" that Illex license refunds will have to be paid.
The forecast capital expenditure for the financial year is expected to be £22.9m, down from the £34.6m originally budgeted.
The figure reflects the expectation that some £14m will be carried forward into the 2018/19 financial year, though that figure will potentially increase.
Speaking to Penguin News about the capital expenditure under-spend, SFC chair, MLA Roger Spink said, "the capital program for 2017/18 has been subject to slippage due to issues such as weather (particularly with regards to the roads program), available resourcing for specific activities, rescheduling of procurement activity where appropriate, and value engineering work to ensure that value for money is obtained".
The committee expressed concerns at virements made in the Department of Health and Social Services to cover wages and locum costs. Of particular concern was that some £60,000 had been vired out of a £70,000 originally designed to fund a Canadian medical scholarship program.
Speaking at the committee, MLA Roger Spink said there was an apparent, "lack of control" in the Department's accounting. Head of Finance, Andy Francis, said that virements were required to cover increased locum costs, adding that the original budgets had been set on the assumption of a certain level of full-time positions being filled.
It was questioned whether such a significant reduction allowed the original intent of the budget code to be delivered, and consequently, whether it had been correctly budgeted in the first place.
Financial Secretary, James Wilson, said that one of the conditions of virements was that they did not affect services in respect of the budget code being reduced.
Also at the committee, MLA Barry Elsby further expressed concern that virements could be being used to distort departmental priorities without the necessary policy discussion.
Additional funding of £520,000 was approved to fund fuel and spares for the Power & Electrical section. The committee said there would be a review of how electricity and quarry prices are calculated, and a template will be made available to the public to demonstrate how final charges are reached.
Standing Finance Committee further agreed two donations of £5000 apiece to the Royal Foundation and Scottie's Little Soldiers to commemorate the birth of a son to the Duke and Duchess of Cambridge and the wedding of Prince Harry to Meghan Markle. (PN)