Tories divided on the customs union and PM May on the brink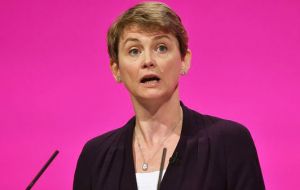 British Prime Minister Theresa May suffered her biggest Brexit blow so far when MPs on Thursday backed a call in the House of Commons for Britain to stay in a European customs union. A debate, promoted by the main opposition Labour Party, was agreed unanimously after a four hour discussion in the House of Commons.
Although the vote is not binding on the government, many politicians believe it will influence May's future thinking on a deal she wants with the European Union after Britain leaves the bloc.
The vote means the House of Commons will formally ask the government to remain in a customs union with the EU. May has insisted that Britain will leave both the customs union and European single market when it parts company with the EU.
Labour MP Yvette Cooper, who chairs the House of Commons home affairs committee, said she and other select committee chairs called for the debate because they think the customs union issue needs to be debated.
Cooper urged the government to bring forward a "proper debate" for the Commons, saying: "It is time for the government to stop running away."
The motion called on the government to include as an objective in negotiations on the future relationship between the UK and the EU the establishment of an effective customs union between the two territories.
Supporters of Britain staying in a customs union with the EU fear it will have a dramatic impact on Britain's trading relationship with EU member states, and will pose a threat to the Northern Ireland peace treaty.
But the government insists that leaving the customs union and single market will enable Britain to strike trade deals across the world.
Conservative MP Marcus Fysh said staying in an EU customs union plan would entirely give up control to the EU and would weaken the UK's sovereignty.
MPs were told the EU is the UK's largest export market for goods, accounting for a total of 202 billion U.S. dollars of exports and 336 billion U.S. dollars of imports in 2016, with a frictionless border.