UK economy grows at its slowest since 2012 in Q1; pound falls to US$ 1.380
Friday, April 27th 2018 - 12:36 UTC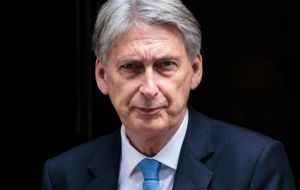 The UK economy grew at its slowest rate since 2012 in the first quarter of the year, the Office for National Statistics (ONS) has said. GDP growth was 0.1%, down from 0.4% in the previous quarter, driven by a sharp fall in construction output and a sluggish manufacturing sector.
The ONS said the extreme weather of February and March had had a "relatively small" impact. Sterling fell sharply as the chances of an interest rate rise in May decreased.
Following the news it was down around a cent against the dollar at US$1.380.
Rob Kent-Smith, head of national accounts at the ONS, said: "Our initial estimate shows the UK economy growing at its slowest pace in more than five years with weaker manufacturing growth, subdued consumer-facing industries and construction output falling significantly.
"While the snow had some impact on the economy, particularly in construction and some areas of retail, its overall effect was limited with the bad weather actually boosting energy supply and online sales."
The ONS figures are a first estimate and could be subject to revisions as more information becomes available. Consumer-facing industries, including retail, fell sharply amid an ongoing spending squeeze caused by higher inflation and slow wage growth.
Last week, the governor of the Bank of England, Mark Carney, hinted that interest rates could rise more gradually than expected due to continuing uncertainty over Brexit and "mixed data" on the economy.
Ben Brettell, senior economist at Hargreaves Lansdown, said that taken with the latest GDP figures, the chances of a rate rise had now fallen dramatically.
"As recently as last week markets were pricing in a near 90% chance that the Bank of England would raise rates next month... today the market's saying there's just a 25% chance that rates will move in May."
Despite the weak figures, some economists suggested the slowdown could prove to be temporary, noting the one-off impact of this winter's weather. Wage growth is also picking up, unemployment is at a four-decade low and inflation fell in March to the lowest rate in a year.
Chancellor Philip Hammond said the latest data "reflects some impact from the exceptional weather that we experienced last month, but our economy is strong and we have made significant progress".
"Our economy has grown every year since 2010 and is set to keep growing, unemployment is at a 40 year low, and wages are increasing as we build a stronger, fairer economy that works for everyone."