Argentine Peso tumbles 7.83% to US dollar; central bank raises rate to 33.25%
Friday, May 4th 2018 - 09:00 UTC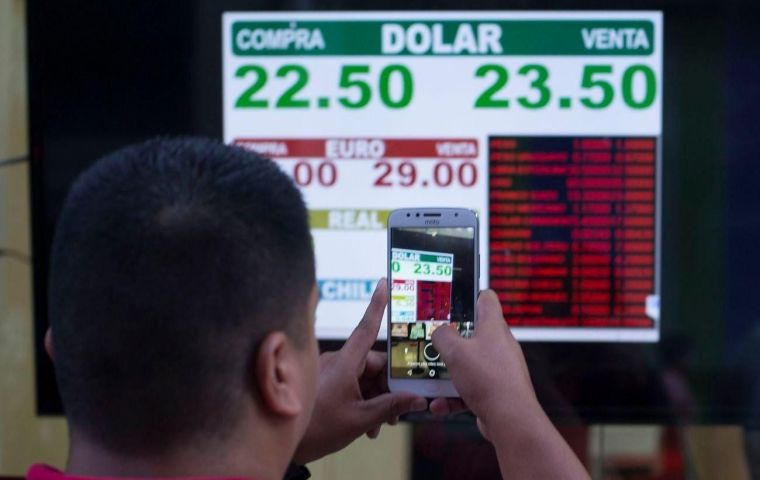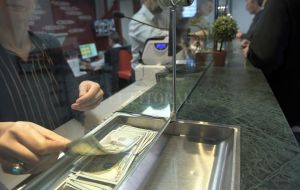 Argentina's central bank raised its benchmark interest rate by 300 basis points to 33.25% percent on Thursday, but the second steep rate increase in less than a week failed to stop the country's peso currency from swooning to a record low. The local currency tumbled 7.83% to 23 per U.S. dollar. It had hit 21.2 to the greenback on Wednesday, the first trading day due to a holiday after the bank hiked the rate to 30.25% from 27.25% on Friday.
The central bank, which over the past week has abandoned its schedule of reviewing monetary policy every other Tuesday, said in a Thursday statement it would continue using all the tools at its disposal to achieve its 15% inflation target for the year and could raise the interest rate again.
"Central bank should deemphasize the 15 percent inflation target for 2018. It is now even less credible as a target than it was before the recent currency move," Goldman Sachs said in a note to clients. Consumer prices in Argentina rose 2.3% in March, putting 12-month inflation at 25.4%.
"The interest rate shock is a step in the right direction but there is no guarantee that it will immediately succeed in anchoring the foreign exchange market," Goldman Sachs said. April consumer price data is set to be released on May 15.
The government had adopted policies aimed at spurring economic growth ahead of President Mauricio Macri's expected 2019 re-election bid. The perception of political pressure on the bank to grease economic activity by keeping the money tap open had cast doubt on its willingness to raise interest rates.
Those doubts had evaporated by Thursday afternoon. The plummeting peso pointed to a lack of investor confidence in Latin America's No. 3 economy, which is blighted by one of the world's highest inflation rates despite Macri's investor-friendly policies.
Emerging market assets in general have been under pressure in recent days against a backdrop of a rising dollar and higher global borrowing rates. Last week's and Thursday's rate increases were by far the biggest adjustment since the bank established its monetary policy rate in 2016.
Argentina's century bond slipped to 86.03 on the dollar from 86.9 after Thursday's rate announcement. The 100 year paper was issued in 2017 when optimism over Macri's fiscal belt-tightening policies was still flying high among investors.
The central bank has heavily intervened in the spot market.
It said in a statement that it sold US$ 451 million on Thursday after selling about US$ 500 million the day before. This week's interventions came on top of the bank selling US$ 6.771 billion in March and April, or more than 10% of its reserves.