Ushuaia 2017/18 cruise season "excellent"; provincial funds to upgrade port and city facilities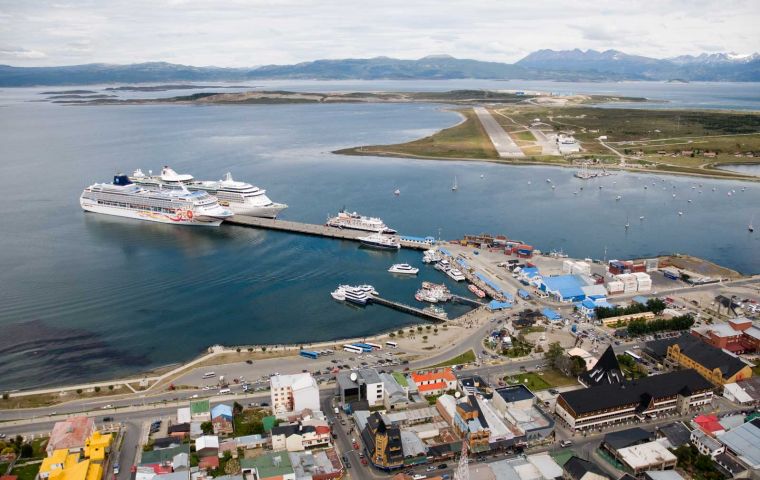 Ushuaia received 120.000 visitors and 33.000 crew members this last cruise season which totaled 332 calls, according to the results made public by the mayor of Tierra del Fuego's capital, Walter Vuoto.
The mayor praised the private sector for its efforts and thanked the port authority, maritime agents, security personnel, armed forces and the municipal staff for their collaboration in making it an "excellent" season and one of the best in recent years.
"The cruise industry has become one of Ushuaia main industries, with direct impact on employment and growth prospects, and receiving tens of thousands of visitors is not only a great honor but also implies a formidable responsibility", Vuoto expressed.
The city is improving the infrastructure with better services and repositioning, in conjunction with the private sector, the stands by the port and making access to the tour agencies more fluid and competitive, said Vuoto who also underlined the efforts to have a clean and tidy city for the visitors.
Vuoto underlined governor Rosan Bertone's lobbying to upgrade port and docking conditions as well as promoting further cruise calls and improving the network of local roads. "If the State does not have a policy or make decisions, the industry's activity by itself is insufficient".
There is a clear determination from the provincial government, the port authority and the Ushuaia municipality to promote the tourism industry and invest in infrastructure, and with the active participation of both the city and provincial tourism offices, "we have been participating in some of the main cruise industry fairs worldwide".
Likewise security has been a main issue and some thirty operations were undertaken to provide the necessary staff and resources to comply, successfully, with international regulations on the matter. .
"Ushuaia is positioned internationally as a great tourist attraction, and we can say proudly it has been recognized as the leading hemispheric cruise city with 330 vessel calls, and thus our commitment to continue investing and promoting the industry".
Mayor Vuoto said it was the city's decision to continue improving services and infrastructure, and, taking advantage of the industry's global growth tendency, to target a 5% annual activity increase for the next six years.
Finally Vuoto revealed the city had signed a US$ 15 million public works program with the provincial government to keep upgrading the city's roads and open spaces, hopefully on time for the next season.