Protectionism the "darkest cloud" for the solid upswing of the global economy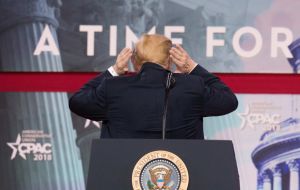 The threat of trade protectionism is the biggest concern looming over a solid upswing in the global economy, IMF managing director Christine Lagarde said. The "darkest cloud" on the economic horizon is the "determination of some to actually rock the system that has actually presided over the trade relationships that we have all undertaken and enjoyed to some extent over the last many decades", said Lagarde.
IMF Managing Director was speaking on a panel with world leaders including Russian President Vladimir Putin, Japanese Prime Minister Shinzo Abe, French President Emmanuel Macron and China's Vice President Wang Qishan in St. Petersburg, Russia, on Friday.
"The good news today is that the sun is shining on the global economy. We went through a decade of difficult time, and now, we have an economy that is doing well," Lagarde said.
Lagarde said her list of worries also include high levels of sovereign and corporate debt and tighter financial conditions in emerging markets from monetary tightening, particularly in the US.
The IMF chief has repeatedly warned against the risks of a global trade war amid aggressive steps by President Donald Trump to crack down on what he sees as the unfair trading practices of US competitors.
The Trump administration on Wednesday launched a probe to determine if imported cars imperil national security, a move that could lead to higher tariffs, and next week Commerce Secretary Wilbur Ross will be in Beijing for the next round of trade negotiations to ease tensions between the world's two largest economies.
"It would be a great mistake to resort to protectionism and unilateralism. This would be a self-inflicted wound," Lagarde said. "Nobody wins a trade war."
President Donald Trump's decision to withdraw from a planned summit meeting with North Korean leader Kim Jong-un next month is the type of unilateral political decision that could have economic ramifications by undermining confidence, Ms Lagarde said.
The US administration's decision to withdraw from its nuclear agreement with Iran was another, she added.
"I'm concerned about any decision, or any reverse decision, that continues to undermine trust," she said. "Trade is picking up, investments are back, and anything that undermines that fundamental asset of trust is putting that at risk."
While the growth in global trade has had tremendous benefits and should be celebrated, the reconfiguration of global supply chains has also "inflicted wounds that we have not really focused on healing and helping," Ms Lagarde said.
"Trade has had its downsides as well, which we have very much ignored." Still, trading nations must work together to solve the problems and comply with the existing framework and rules rather than taking unilateral action, she said.