New Waste Management Strategy for the Falkland Islands
Wednesday, June 6th 2018 - 19:25 UTC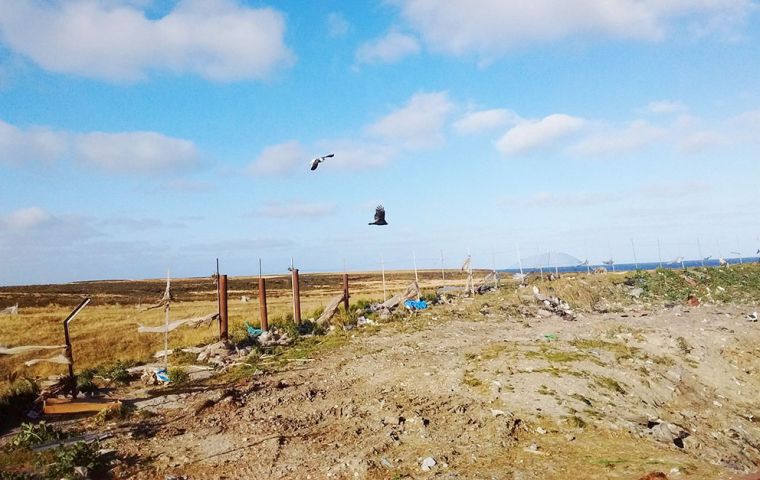 Today the Falkland Islands Government announced the adoption of a new Waste Management strategy for the Islands.
The Government stated that this was work was driven by a recognition that for some time many residents of the Islands have not viewed existing waste management practices as being sustainable or particularly environmentally friendly. Development of the strategy has taken a number of years and has resulted in a high-level strategy in the first instance.
The strategy outlines the fact that the Islands face particular challenges in terms of low volumes of waste, geographic isolation, high costs and limited facilities locally. Therefore there are a number of barriers to improved practices, which serve to limit the scope of available options. However, the strategy details an ambitious set of proposals including expanded formal recycling, creation of energy from waste, the creation of a new engineered landfill site, and a public awareness campaign to help reduce waste volumes.
The strategy is focused mainly on the Capital of the Islands, Stanley, but does also make some provision for waste created in rural settlements and by the UK Ministry of Defence (MoD) personnel based in the Islands. Further work with the UK MoD is planned to help avoid any duplication of waste facilities in the Islands. The strategy also makes reference to looking to create private-sector led commercial opportunities; though it is recognised that small volumes will make this challenging. To date the retail sector within the Islands have actively engaged with community efforts to reduce waste, particularly the importation of plastics.
The options chosen in the strategy were the result of a number of years analysis looking at different solutions used across the globe. Ultimately a number of technologies were ruled out for cost or feasibility reasons. The need to look to recycle or reduce waste will become more pressing with the potential for greater oil activity in the Islands in the coming decade. Oil operators in the Islands have publicly stated in Environmental Impact Statements that they wish to work to industry best practice in terms of waste management and therefore will wish to see appropriate facilities available if at all possible. Throughout previous exploratory drilling rounds nearly all waste streams were exported and dealt with in other, better equipped, jurisdictions.
The Government will hope that this strategy, at least in part, appease vocal groups in the Islands who have campaigned for the Government to show stronger leadership in this area. There have been groups created on social media to help highlight the dangers of certain types of waste, and to encourage individuals to reduce their waste 'footprint'. Such efforts will now be reinforced by greater actions on the part of the Islands Government, though the strategy recognises that these will inevitably take a number of years.