Opinion polls confirm Duque as winner in Colombia's presidential runoff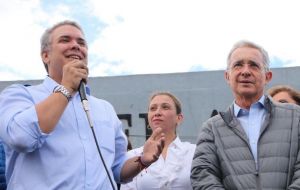 Right wing candidate Ivan Duque looks set to win Colombia's presidential run-off on June 17, two polls published on Friday indicated, as he held on to his long-running lead over leftist Gustavo Petro.
Hard line ex president Alvaro Uribe (2002/2010), who enjoys strong backing in Colombian public opinion, and rejects some of the terms of the peace deal with Marxist guerrillas, is considered the mentor of Duque.
Duque, who has promised to overhaul the 2016 peace deal with the Revolutionary Armed Forces of Colombia (FARC) and cut taxes, won the most votes in the first-round election on May 27, with 39%.
Ahead of the run-off, the Invamer poll reported Duque has just over 57% support, while Cifras y Conceptos said he had over 45%.
Petro, a former M-19 rebel and ex-mayor of Bogota, has promised to fight inequality, safeguard the FARC deal, ban open-pit mining and shift state-run oil company Ecopetrol toward renewable energy.
He had over 37% support in Invamer poll and more than 36% in the Cifras y Conceptos survey. Petro won 25% in the first round vote.
Some Colombians are planning to hand in blank votes - a popular form of electoral protest - according to the two polls. Invamer said 5.5% of people favor the blank option, while Cifras y Conceptos said the figure was as high as 18.3%.