Cuba actively promotes foreign investment to prop the economy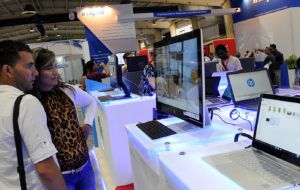 The Cuban government opened on Monday the 3rd Edition of International Convention and Exhibition of Cuban Industry (CubaIndustria 2018), seeking to attract foreign investors to revitalize the country's economy.
The Minister of Industry, Salvador Pardo, highlighted that the meeting is being attended by representatives from around 30 countries, including China, Russia, Spain, Germany and Italy.
Pardo stressed that the event is aimed at promoting Cuba's official portfolio of investment and to attract foreign capital and entrepreneurs, in order to establish joint ventures and develop strategic economic sectors.
With the participation of a Chinese business delegation, the official confirmed the "excellent" state of bilateral ties between Havana and Beijing.
Pardo said Cuba and China have signed relevant cooperation agreements in the spheres of renewable energy and transportation, among other important areas.
CubaIndustria 2018 includes a business forum at which Cuban officials will provide insights on the advantages of investing at the island's first Special Economic Development Zone, located at the megaport of Mariel, 50 kilometers west of Havana.
The Mariel Special Economic Development Zone is the largest infrastructure project executed by the Cuban government in the last decade and is expected to become the nation's main gateway for foreign trade.
Cuba needs over 2.5 billion U.S. dollars in foreign investments annually to achieve sustainable development, according to figures released by the Minister of Foreign Investment and Trade, Rodrigo Malmierca.
The arrival of foreign entrepreneurs is not only important due to fresh injection of capital into Cuba but also bringing in modern know-how and high technology that the country needs to update its economic mode.