Brazil's second corn crop lower, but export forecast remains at 28m tons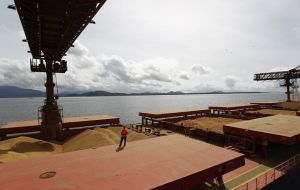 Consultancy Agroconsult lowered its forecast for Brazil's so-called second corn crop to 55.2 million tons on Monday but left its export projection unchanged after a survey of fields in four states affected by planting delays and a drought. Agroconsult had estimated last month that the second crop, which farmers are currently harvesting, would total 57 million tons.
Agroconsult kept a forecast for corn exports at 28 million tons despite uncertainty related to freight truck prices, which rose after the government decided to intervene and fix
them following trucker protests in May.
Andre Pessoa, Agroconsult partner, said more than 70% of the second corn crop planted in Mato Grosso state had already been traded. The main focus of concern was related to shipping next year's soy and corn crop, he added, saying the futures market had "ground to a halt" because of ongoing transportation issues.
Grain handlers have stopped buying Brazilian corn and soy as concerns over rising logistical costs continue.
The situation is making farmers worry as they are now harvesting their corn and do not have much room in silos, Agroconsult said. Freight cost doubts have also disrupted fertilizer deliveries, Pessoa said.
Agroconsult predicts Brazil's soy area is likely to grow by 1 million hectares next season, but planting decisions may be affected if the cargo transport is not normalized, according to Pessoa.
An Agroconsult-led crop tour ended on June 8 after covering much of Brazil's second corn area in the states of Mato Grosso, Mato Grosso do Sul, Goiás and Paraná.
"Another factor contributing to the fall in output and yields was lower investment in fields," said Pessoa.
The government predicted earlier this month that Brazil's second corn crop would be 58.2 million tons this season, some 9 million tons lower than last year's.
"Delays in harvesting of soybeans narrowed the ideal window for planting second corn," food supply and statistics agency Conab said, adding that drought had also weighed on the crop. Brazil's second corn, planted after soybeans in many areas, accounts for roughly 70% of output and in the world's third largest producer after the United States and China.