Argentine economy shrinks 0.9% as agriculture hit by drought plummets 31%
Wednesday, June 27th 2018 - 08:12 UTC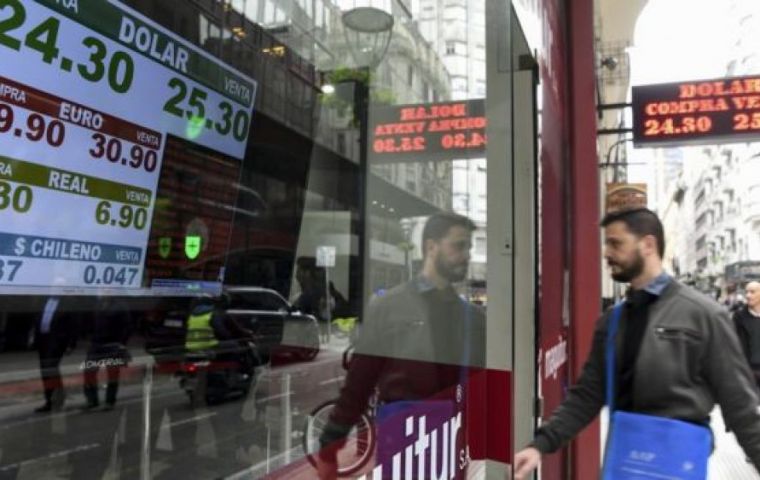 Argentina's economy shrank in April for the first time in more than a year, government data showed on Tuesday, while the central bank held its policy rate stable at 40% in the first rate decision since a shakeup in its leadership.
The 0.9% contraction in April from the same month a year ago came as the key agriculture sector plummeted 31%, according to government statistics agency Indec. That was a consequence of the country's worst drought in years, which shriveled the country's soy and corn crops.
It was the first negative monthly reading since February 2017. The economy shrank 2.7% in April from March. Argentina is the world's top exporter of soy meal and soy oil and one of the top shippers of corn and raw soybeans.
Treasury Minister Nicolas Dujovne has said the drought will reduce 2018 growth by 1.5 percentage points of gross domestic product (GDP).
After expanding nearly 3% in 2017, economists have cut their expectations for growth in Argentina this year due to the drought and a run on the peso currency that triggered a financial crisis, prompting the country to turn to the International Monetary Fund for financing.
The central bank said in a statement explaining its policy rate decision that GDP would likely expand 1% in 2018, due in part to "the extraordinary drought that the agricultural sector suffered."
In its first monetary policy statement since Luis Caputo took over as governor earlier this month, the bank said it expected consumer prices to rise by less than 2% per month between July and September, down from 2.1% in May and 2.7% in April.
The monetary authority added that it would continue to intervene in the secondary market for central bank debt notes, known as Lebacs, and said it would keep policy tight until inflation expectations fall in line with its target for 17% annual inflation by December 2019.
The statement also said that "further changes" in monetary policy would be announced before the next scheduled rate decision on July 10, though no details were given.
Caputo, a former finance minister who replaced Federico Sturzenegger on June 14 as the peso fell to record lows, had previously hiked banks' reserve requirements and lowered a cap on banks' foreign currency holdings.