Maradona: "I'm more alive than ever"; offers a reward on the origin of fake news about his death
Saturday, June 30th 2018 - 15:39 UTC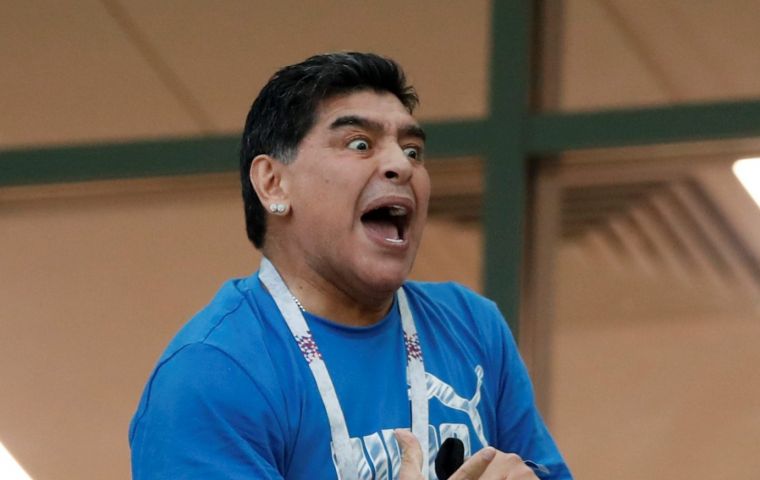 Argentina's former football star Diego Maradona has issued a bounty worth 300,000 pesos (US$10,800 / £8,300) to find the journalist responsible for reporting fake news regarding his death, according to Infobae.
Two Spanish-language audio clips claimed Maradona had suffered a heart attack and died, shortly after news emerged of his eccentric and bizarre behavior during — and after — Argentina's 2-1 victory over Nigeria in the FIFA World Cup group game on Tuesday.
Maradona's out of control antics overshadowed the match itself as he was caught on video celebrating strangely, dancing with a Nigerian soccer fan, and then falling asleep at half-time.
After he woke up he swore at soccer fans below his VIP box, required assistance to leave his seat, and had his pulse checked by paramedics after the final whistle.
The extraordinary series of events captured the imagination of social media and the internet.
An ESPN radio journalist tweeted that Maradona was hospitalized, something the 1986 World Cup winner vehemently denied in an Instgram port, where he said he was "fine", while aboard a private jet. He had apparently just had neck pain and one too many glasses of white wine.
But the fake news did not stop there — and the audio clips appeared to claim that Maradona was dead.
Now, Maradona's lawyer is trying to track down those responsible. "I have made public the decision to give a reward of 300,000 pesos for anyone who can provide accurate information on the person who put the audio together," the lawyer told Infobae.
"Often it is thought that, in these issues, little can be done. But my studio tell me they consulted with experts in technology and you can get to know who put it together. That's why we need someone to provide us with information."
Maradona told Venezuelan TV that he is not dead. He said he is "more alive than ever." He added "I want to let the whole world know that I'm more alive than ever."