Messi out of the World Cup: France beat Argentina 4-3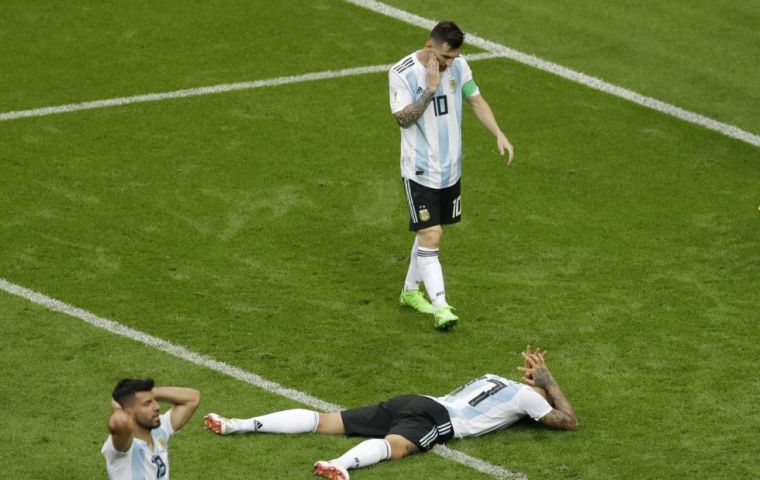 Mbappé is the man of the day. The player of the Paris Saint Germain (PSG) was the great figure of the game in which France surpassed by 4-3 to Argentina and advanced to the quarters of the 2018 Russia's World Cup. With two goals from Mbappé, one from Pavard and a penalty from Griezzman, the "Bleus" beat the Argentine selection. Di María, Mercado and Agüero where the authors of the Argentine goals.
The dream of Argentine star Lionel Messi to win a World Cup was again buried with the victory of France 4-3 against the Albiceleste, this Saturday in Kazan, in the first of the matches for the knockout rounds of Russia-2018.
France moved the ball as they wanted, with defensive safety and speed in the transitions, and good volume of play. Everything, absolutely everything, what Jorge Sampaoli feared most.
Didier Deschamps got away with annulling Messi with a good job in the midfield of Kanté and Matuidi. The star hardly appeared without greater risk and Argentina thus suffered it.
"We're finished, that's it, sometimes you have to accept that the opponent is better and smarter," Argentine defender Javier Mascherano said at the end of the match.
For Argentina this is the farewell of a golden generation that led to three final, two in the Copa America and one in the World Cup. "We are very sad, our dream was to reach the end," Gabriel Mercado said. France will play in the next round against the winner of Uruguay-Portugal.