Over 700.000 foreign football fans have visited Russia for the World Cup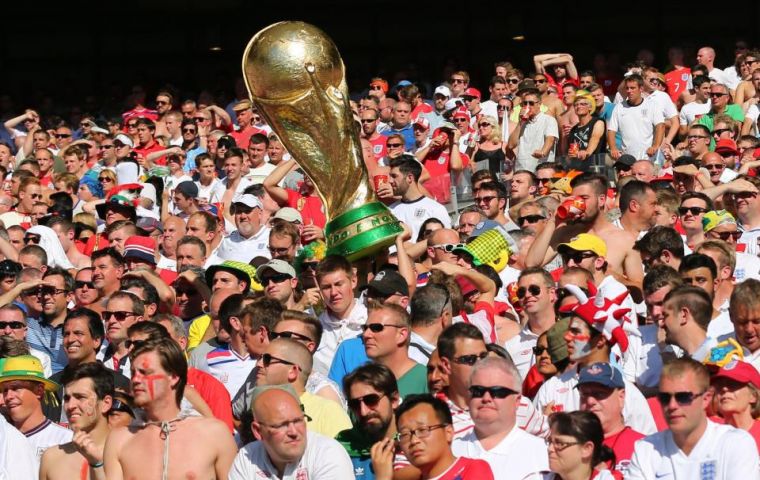 Over 700.00 foreign football fans have visited Russia for the World Cup, according to Russian and FIFA officials. World Cup 2018 CEO Alexey Sorokin and FIFA's chief competitions and events officer Colin Smith, at an event in Moscow's Luzhniki Stadium, reported on operational aspects of the World Cup so far.
FIFA said 2,700 doping tests had been carried out from January to June with no violations so far. World football's governing body was unable to give any figures about the number of doping tests conducted during the World Cup but said all 736 players had been tested at least once before or during the group phase, with four players tested per match.
FIFA said 2.2 million fans had attended matches so far. Officials remarked on the 1.6 million Fan IDs issued. A total of 874,000, the largest proportion, were sent to Russian citizens. Chinese nationals got 61,000, US citizens 50,000, with Mexico fans getting 43,000, reported news agency TASS. More than 700,000 foreign football fans visited Russia.
FIFA said 130 million fans have visited Fifa.com and the official app during the World Cup. A total of 5 million people have enjoyed FIFA Fan Fests around the 11 Russian host cities.
"We have showed to the world that we welcome any fans from any country," Sorokin told reporters.
"The atmosphere has been truly hospitable. There are many stories from real life that show that Russians have really been helping this to be a fantastic show. This hospitality is something we have in our blood. You cannot organize this in an artificial way, you cannot impose this on people," he said.
Russia are the lowest ranked team in the tournament and have surprised fans and the media alike after finishing runners-up in Group A behind Uruguay. They will play Spain in the round of 16 on Sunday.
"We are happy that Russia made the knockout phase, but we are not that surprised because they have been preparing for that for many months," Sorokin added.
FIFA's spokesman said the federation was delighted with the "very positive feedback from all of our stakeholders".
"There is a lot of work to be done still. Credit goes to the whole team: the LOC, the cities and the regions for looking after everyone so well. I have seen first-hand the hospitality, the accommodation, the passion, the enthusiasm for hosting the World Cup here," Smith said.
"I think it has been fantastic to see all these nationalities grouping together and enjoying themselves. A huge shout-out to all the fans. They have been fantastic, and we know this will continue right through the final."