Argentina plans to free fuel prices starting in August
Tuesday, July 3rd 2018 - 07:26 UTC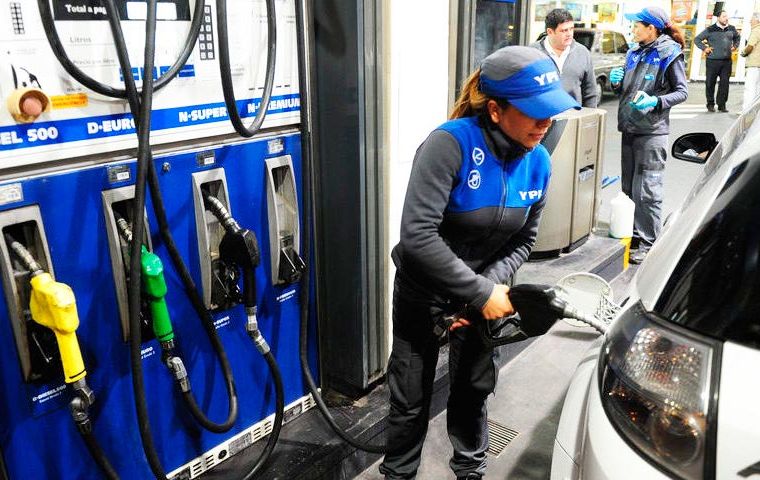 Argentina will allow fuel retailers to freely set pump prices starting in August, according to an Energy Ministry official familiar with the plan, a move that could encourage badly needed investment in the nation's oil patch but risks worsening sky-high inflation and angering consumers.
Separately, the ministry is looking to set up an auction process for the natural-gas market that it hopes will lower prices, according to the official, who was not authorized to speak publicly. The moves will also bring relief to the oil sector. Price controls have squeezed refiners' margins, prompting one refinery to suspend operations.
Macri's pro-business government freed fuel prices last year, part of its efforts to unwind state controls on Argentina's economy. But his administration reversed course in May due to a rapid decline in the peso. The sudden depreciation rattled markets and prompted Argentina to turn to the IMF for emergency financing.
In May, the government reached a deal for a two-month freeze on pump prices with the three largest oil companies operating in Argentina: state-owned YPF, Shell, and BP's Pan American Energy. It later set the price of domestic crude at US$ 68, about US$ 10 below the global Brent crude price, to mitigate the impact of freezing fuel prices on refiners' margins.
By freeing pump prices, the government is betting that gas stations will limit price hikes to avoid losing customers, the official said, and that by freeing crude prices it would encourage more investment in domestic drilling, part of a long-term strategy to wean Argentina from petroleum imports.
The government and the oil companies agreed to loosen the freeze June 1, allowing for hikes of 5% in June and 3% in July. Macri's administration had kept the industry guessing as to what it might do in August.
Last month, global trader Trafigura announced it was suspending activities at its 30,500 barrel-per-day refinery in the port city of Bahia Blanca due to the "mismatch between fuel prices and production and import costs."
An end to retail price caps would likely infuriate Argentine consumers, who are already incensed at the government for the drop in the peso and inflation that is running at a 26.3%annual clip. But Macri's government has prioritized reviving the energy sector to shake Argentina's dependence on imported oil and gas, and to put an end to market-distorting subsidies.
Argentina possesses the world's second-largest reserves of shale natural gas and ranks No. 4 in reserves of shale oil, mostly in the Vaca Muerta fields in Patagonia. But it faces stiff competition to attract the billions in private investment needed to develop these resources. Oil production is languishing at multi-decade lows.
The picture is brighter with natural gas. Rising output in Vaca Muerta helped boost the country's production by 3.4% in the first quarter of 2018 compared with the same period last year, according to government data.