Falklands begins comprehensive Public Health Strategy development
Wednesday, July 4th 2018 - 08:09 UTC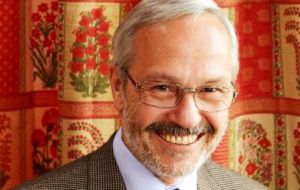 The Falklands Islands Government has begun work on developing a comprehensive Public Health Strategy. The purpose of this work is to help people stay healthy as long as possible and reduce ill health by enabling everyone to make healthier choices in their lives.
A new Public Health Steering Group has been formed to provide oversight of this work, championed by MLA Dr Barry Elsby and chaired by the Director of Policy and Economic Development Diane Simsovic. Members include Government experts from across Health, Education and Leisure, and representatives of the public from both Stanley and Camp. It is hoped that a proposed Public Health Strategy, including options and budget, will be presented to EXCO no later than early 2019.
To support this work, FIG has appointed Carol Morrison as its new Public Health Advisor. Carol will research public health issues facing the community, and using research and best practice from other countries, she will produce a Public Health Strategy tailored to the reality of the Falkland Islands.
MLA Barry Elsby said: "This is an important piece of work for the Government. Public health measures are critical in reducing illness and disease and enabling people to enjoy a good quality of life. Evidence indicates that up to 40% of all cancers are preventable as are diseases such as type 2 diabetes and heart disease. Whilst we may all believe that we could make healthier choices in general, what has been lacking in the past has been a clear strategic approach to supporting people to make those choices that will keep them healthy.

"I am so pleased that Carol Morrison will be advising us on this work. Her deep understanding of our community will ensure that the strategy we develop will be tailored to our specific needs and allow us to move forward quickly with concrete actions that will benefit the Falkland Islands population.
"I encourage everyone to take an interest and get involved, as we hope to see participation from as many people as possible. There will be extensive public engagement later this year so that we can have conversations with you all about your expectations and priorities on this important topic. After all, this is your Public Health Strategy and we want to be confident that we have heard a wide range of opinions and ideas".