Donald Trump unwelcome in London: 'Trump baby' blimp will fly over the Parliament
Friday, July 13th 2018 - 10:26 UTC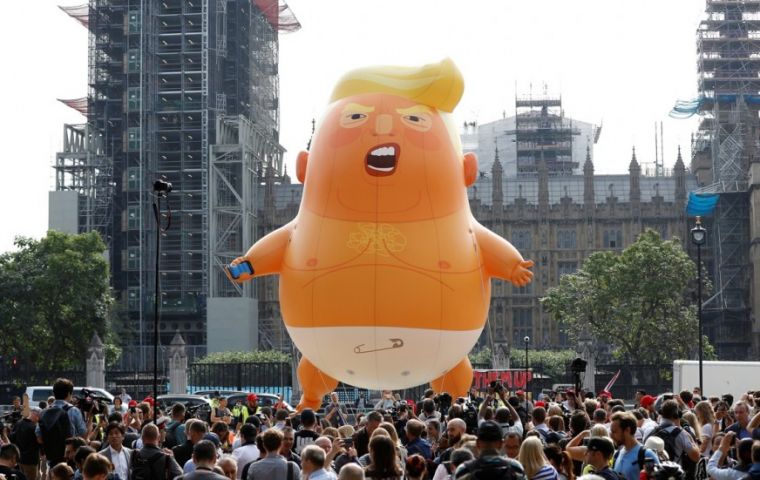 The unpopularity of the President of the United States, Donald Trump, shown apparent by Thursday night, when protests started as soon as he landed in London for a meeting with the PM Theresa May. The US president, as the main event of his trip, will hold talks with the prime minister May and the new foreign secretary, Jeremy Hunt, at the PM's Chequers country retreat.
After criticizing its European allies at the NATO summit, claiming that the U.S. is financing Europe's defense while Germany pays billons on Russian energy, his scheduled visit to London was remarked with protests and critics from activists and different politics groups.
More than 10,000 people signed a petition calling on the mayor to "let Trump Baby fly", a six-meter balloon depicting Mr Trump as a nappy-clad orange baby.
The petition received the green light of London mayor, Sadiq Khan, to fly near the parliament and the activist group has so far raised over £16,000 to cover the costs of the protest -more than three times its original target- on a crowdfunding campaign.
Describing Donald Trump as a "dangerous excuse for a president", the group's spokesperson, Nona Hurkmans, said: "We are just a small group of friends who set out to show that fascists are not welcome in the UK."
According to Downing Street, the meeting between the leaders will cover as well as trade and Brexit, the talks would cover Russia and the Middle East.
However, Mr. Trump insisted he was popular in the UK, citing his strong line on migration. "They like me a lot in the UK. I think they agree with me on immigration."
But the U.S. President said that he felt unwelcome in London after hearing of the "Trump baby" blimp initiative.
The US president attacked Sadiq Khan, the Greater London Authority, suggesting he was a "terrible mayor" who had "done a very bad job on terrorism" by allowing so many migrants to come to the city. He said that he felt unwelcome in London after hearing of the "Trump baby" blimp.
According to a Guardian/ICM poll, 53% of the respondents disagreed with the idea Trump was doing a good job, and 63% disagreed with the statement that they would like to see a politician like him as British prime minister.
Protests have been organized to follow him everywhere around the UK, with a demonstration planned for Friday afternoon in London where organizers expect tens of thousands to attend.