No casualties reported as Chilean Antarctica base goes down in flames
Saturday, July 14th 2018 - 07:42 UTC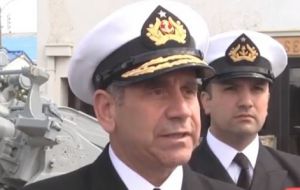 The Antarctic Maritime Government building in King George Island went down in flames at dawn Thursday. Nobody was injured and maritime traffic support went on with help from the INACh and the Air Force.
Winds nearing a speed of 50 kilometres per hour and a temperature of -12 degrees Celsius reigned at three o'clock in the morning Thursday when the fire was declared at Chile's Antarctic Maritime Government base, in King George Island, the main access to white continent.
Ten Navy personnel, stationed for one year at the installation, around 4,200 km south of Santiago, escaped unharmed thanks to the fact that those on watch gave the alert dilligently.
A Fire Extinguishing squad from the Teniente Marsh aerodrome at the President Frei Montalva base of the Chilean Air Force, adjacent to the naval installation, worked hard to put down the flames, but there was very little they could do.
At dawn all that was left were the smoking remains of the 1,000 square-metre facilities.
The commander in chief of the III Naval Zone, Rear Admiral Ricardo Marcos, explained that the fire is likely to have started in the old part of the base which dates back to 1987, and that due to the wind it quickly spread to the newer part, which was opened in April 2009.
Marcos said that "the fire started in an old sector, where the boiler and warehouses used to be, and where people were to be housed only when maintenance crews stopped by."
"The important thing is that the staff is intact and we are receiving logistical support from the Air Force facilities of the Inach (Chilean Antarctic Institute)," Marcos added.
He also said that despite the fire it will be business as usual for the Maritime Governance in Antarctica, which supports maritime traffic in the Antarctic peninsula. "That capacity we're going to keep with support from the Inach facilities," Marcos said.
The causes of the fire are unknown for now and are subject to investigation.
Inach Director Marcelo Leppe expressed his main concern had to do with the water supply and sanitation because together with the naval installation they shared the sewage treatment plant to fulfill the environmental commitments that the presence in that territory entails. "The viability of the water treatment plant should be defined urgently," said Leppe.