Brazilian Real and Argentine Peso lose ground against the dollar
Thursday, July 19th 2018 - 07:50 UTC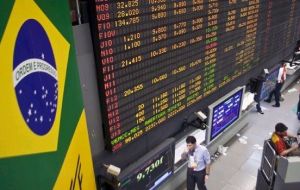 Latin American currencies fell against the dollar across the board on Wednesday as traders continued to focus on recent statements by key U.S. monetary policy makers.
On Tuesday, U.S. Federal Reserve Chairman Jerome Powell said in congressional testimony that he saw the United States on track for years more of steady growth, downplaying the risks of an escalating trade conflict with China.
Kansas City Federal Reserve Bank President Esther George was later quoted stating the Fed should ease away from monetary policy accommodation, further solidifying bets on the dollar.
Meanwhile, in Brazil, the region's largest economy, the market continued to fret over a wide-open presidential election scheduled for October, with parties entering the season in which they will have to choose candidates. That has made traders reluctant to make any significant bets on the Brazilian Real.
The Real and the Argentine Peso were slightly off at the end of trading. The Peso was supported with intervention from the central bank.
Argentina's central bank on Tuesday trimmed its interest rate on Lebac notes to 46.5% from 47%, and sold 393.86 billion pesos (US$14.29 billion) of the securities out of some 529.32 billion that expired, the bank said in a statement.
The Chilean Peso was the region's biggest loser, falling 0.56% as the price of key export copper was down by a similar percentage on the London Metal Exchange.
Equities markets across the region were mixed. Brazil's benchmark Bovespa posted a loss of 0.98%, after four straight sessions in the black. Off the Bovespa, shares in renewable energy company Renova Energia SA were up 11.7% after the company said in the morning that it had received multiple offers for a large wind farm.
Argentina's Merval was up over 1%, and reached 27.044,46 points, but with cautious trading given the current financial situation.