US Treasury Secretary denies any chance or a currency war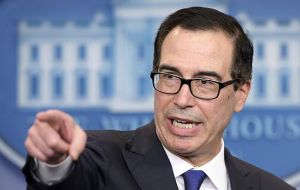 United States Treasury Secretary Steven Mnuchin said there's no chance of a currency war erupting. When asked whether investors should be concerned about the prospects of one, he said "no," declining to elaborate during a press conference in Buenos Aires on Sunday.
Mnuchin was in the Argentine capital attending the Group of 20 nations summit.
In a series of comments late last week that shook financial markets, President Donald Trump attacked the Federal Reserve for raising interest rates and for undercutting his efforts to slash the U.S. trade deficit.
Much of Trump's ire with the Fed seems directed at the impact that the central bank's interest rate increases have had on the dollar. The president on Friday also accused China and the Euro area of manipulating their currencies, and complained that a rising dollar is blunting America's "competitive edge."
However despite Trump's comments, the greenback is about 5% higher than it was when he imposed tariffs on steel and aluminum imports on March 23.