Jeremy Corbyn: Labour is not a threat to Jewish life in Britain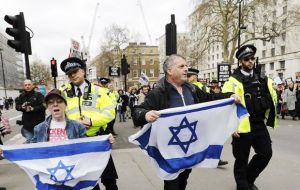 Labour leader Jeremy Corbyn has said "people who dish out anti-Semitic poison need to understand: you do not do it in my name". In an article for The Guardian he said anti-Semitism was a "real problem" that Labour was "working to overcome". But he did not give in to demands to adopt all the examples of anti-Semitism cited by the International Holocaust Remembrance Alliance (IHRA).
Critics in the Labour Party said the article had changed nothing. In his article, Corbyn said he recognized the "strong concerns" about Labor's code of conduct and that many Jewish organizations believed it should include all 11 examples of contemporary anti-Semitism cited by the IHRA in its guidelines.
Mr. Corbyn, a long-standing supporter of the rights of Palestinians, defended Labor's decision not to include one of the examples - which warns against "claiming that the existence of a State of Israel is a racist endeavor".
He said this had "sometimes been used by those wanting to restrict criticism of Israel that is not anti-Semitic".
But he added: "I feel confident that this outstanding issue can be resolved through dialogue with community organizations, including the Jewish Labour Movement, during this month's consultation."
The Labour leader also wrote that he would "not for one moment accept that a Labour government would represent any kind of threat" to Jewish life in the UK.
"That is the kind of overheated rhetoric that can surface during emotional political debates," he said.
Labour MP Ian Austin, who is being investigated over his alleged behavior during a row about the party's code of conduct, said Mr. Corbyn's article will "make matters much worse".
"Under his leadership, the Labour Party has caused huge offence and distress to the Jewish community yet he's not just completely failed to make a single change, but repeated some of the things that have caused this problem," he said.
Another Labour MP, Wes Streeting, a leading critic of Mr. Corbyn's stance on anti-Semitism, told the BBC his party leader was guilty of "the same old hand wringing we've heard time and time again".
A Jewish Labour Movement spokesperson said: "Today, other than another article bemoaning a situation of the party's own making, nothing has changed. There is no trust left. We find ourselves asking once again for action, not words."
But Barnaby Raine, a Jewish Labour party member and supporter of Mr. Corbyn, told BBC Radio 4 that the article demonstrated a significant step forward for the leader
"He has acknowledged that anti-Semitism is a serious problem in the Labour party," he said. "He has taken on those people that say that they support him, even though they are anti-Semities.
"And he has done something… which I think this is especially important - he has condemned those people, not just who hold anti-Semitic attitudes, but who dismiss this whole thing as just a smear on the Labour party."
Mr. Corbyn had been hoping to make a speech addressing the anti-Semitism row at the Jewish Museum, in London, but the museum has now said there are "no plans" for a Labour event there.