Chile doubles lithium carbonate exports: strong demand and prices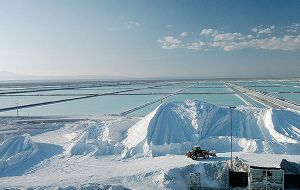 Chile's exports of lithium carbonate reached US$ 85 million in July, more than double that of the same month the previous year, as demand and prices for the key component in electric vehicle batteries continues to rise, the central bank said in a release.
The value of exports of the metal from Chile, one of the world's top producers of lithium, jumped 51% in the first seven months of the year, according to the bank's data.
Top lithium producers Albemarle and SQM have both signed deals in recent years with the Chilean government to increase production in the lithium-rich Salar de Atacama.
The Atacama salt flat, which accounts for the majority of Chilean production, is part of the so-called "lithium triangle" in Argentina, Bolivia and Chile, a region containing a large portion of the world's lithium reserves.