Complications for the diaspora: Venezuelans can only flee with a passport to Peru or Ecuador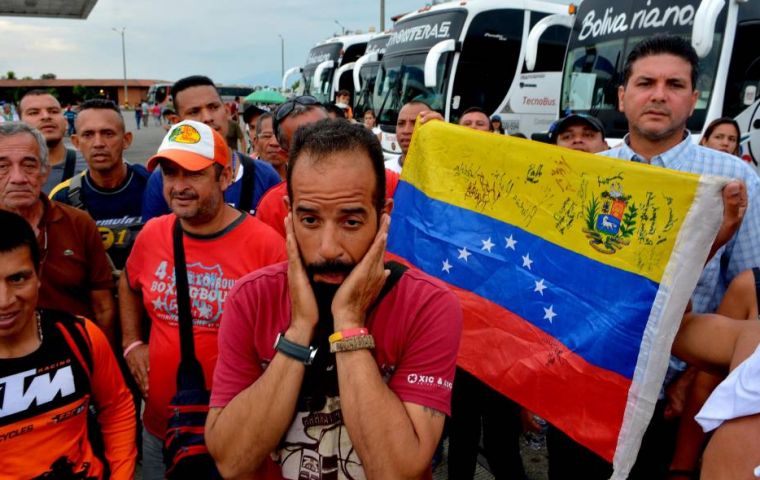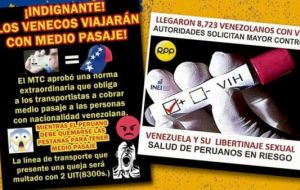 The Ministry of the Interior of Peru has announced that as of the dawn of next Saturday, August 25, Venezuelans will be required to present their passport to be admitted to the country. This measure coincides with that taken by Ecuador this week when it reached record figures in the entry of Venezuelan citizens in that country. The National Superintendency of Migrations of Peru recorded last Saturday the largest number of Venezuelan citizens who entered the country in a single day: more than 5,100.
The vast majority of these migrants enter by land: those who begin their journey in Venezuela continue through Colombia, Ecuador and finally continue south through Peru or Chile. In the case of Ecuador, the measure demanded by the passport was announced on Thursday, entering into force on Friday after declaring an immigration emergency.
Since the beginning of 2018 around 547,000 Venezuelans have entered Ecuador through the Colombian border, a daily average of between 2,700 and 3,000 people. However, the United Nations High Commissioner for Refugees (UNHCR) points out that "the influx is increasing and, in the first week of August, about 30,000 Venezuelans (more than 4,000 per day) entered the country."
However, only 20% of the more than half a million that entered Ecuador this year settled in this country: some 72,000 people until July, according to official figures.
Amongst the passers-by, bicycles and tourists that travel along the Miraflores beach boardwalk, one of the districts with the highest socioeconomic status in Lima, Rubén stands with a large plastic container full of Venezuelan donuts, which have become popular in the streets of the Peruvian capital thanks to the diaspora of the Caribbeans.
Rubén is one of the 385,000 Venezuelans residing in Peru-official figure of August 10-and one of those who arrived in this last massive wave of immigrants to the Andean country in search of money to send to his family in Caracas. Rubén explains that in Venezuela he was engaged in automotive mechanics, however, in Lima it has been very difficult for him to get a formal job, since he is not one of the few 70,000 Venezuelans who have obtained a temporary residence permit that authorizes them to work legally, less of 20%.
After several months traveling by buses and on foot. He says he spent all his savings and part of the money he earned selling the few jewels that his mother gave him to pay the almost 200 dollars that cost a Venezuelan to reach Lima, between bus tickets and bread to eat.
Peru's interior minister, Mauro Medina, has informed in a press conference that the new requirement is to "assure the population, and even to them, if they were victims of an illness or a traffic accident, or if they incur in a criminal act, to denounce them according to law. "
Medina says that, although the vast majority of Venezuelans who come to Peru are decent people who come to study and work, some take advantage of "an identity card that offers no guarantees and that can easily be falsified, causing problems of citizen security ", adds the minister.
Medina has detailed that in Ecuador and Colombia there would be some 25,000 Venezuelans on the way to Peru, and that, unlike the Ecuadorian government, they were giving more than a week so that they can meet the passport requirement upon reaching a Peruvian point of control migratory.
However, Venezuelan Foreign Minister Jorge Arreaza acknowledged on August 1 that they are not delivering their passport due to lack of paper.
The deputy executive secretary of the National Coordinator of Human Rights, Ana María Vidal, has criticized the decision of the Government of Peru. "The Chancellery of Peru seeks to lead the Lima Group with an investigation into Nicolás Maduro for crimes against humanity, but with this decision the new requirement does not seem to worry about Venezuelan citizenship," Vidal added.
In Ecuador, this new measure quickly raised controversy for entering into contradiction with the Organic Law of Human Mobility, which only requires a national identity document for South American citizens who want to enter, circulate or leave Ecuador. However, the Ecuadorian Executive supports the decision in a technical report that has identified "cases of trafficking and exploitation in migrants" that entered with their ID. And, it also justifies that the law allows access with a valid and valid identity document.
Currently, thousands of Venezuelans are in Colombia on their way to Rumichaca, in Ecuador, in search of continuing their trip to other countries; some are traveling at this time by bus, others with fewer resources do so by walking. Many of them will have traveled thousands of kilometers in vain to find these new measures that make it difficult to pass through Ecuador or Peru, obligatory border crossings so that the flow of migrants does not stagnate in Colombia.
The United Nations Organization for Migration (OIM) made a monitoring between December 2017 and January 2018 that showed 24% of Venezuelan immigrants reported having been discriminated against. In 88% of cases due to their nationality.
Last week, after a couple of cases of assaults supposedly carried out by Venezuelan criminals in Peru, fake news against immigrants went viral. According to El País (Madrid), a text circulated by social networks stated that the Peruvian Congress approved new laws that favored Venezuelans over Peruvians in their country.
Ricardo, a mountain guide from Cusco, expresses his dissatisfaction with this news. According to the Cusquenian Peruvian politicians are taking advantage of the issue of Venezuelans and are treating it as a policy issue from which they intend to take votes for future elections. This discontent among Peruvian society occurs in the context of a corruption scandal in Peru exposed by the press in Lima that includes supreme judges, superior judges, prosecutors, members of the magistrate, businessmen and politicians, among others.
So far, some 2.3 million Venezuelans have fled their country because of the political, social and economic crisis that directly affects the supply of food and medicine.
The Secretary General of the UN, António Guterres, has encouraged governments around the world to donate funds to these states through the mechanisms that the agency has put in place. "Obviously the arrival of large numbers of civilians in any country causes a burden," the spokesman said.
So far, the UN itself has allocated 6.2 million dollars from its Central Emergency Response Fund to support the activities of IOM and UNHCR. In parallel, the US has donated more than 60 million dollars to Colombia to face the emergency that lives on the borders with Venezuela and Ecuador. More than one million Venezuelans have passed through Colombian territory since the beginning of 2017, according to data from Migración Colombia.
Everything seems to indicate that the crisis in Venezuela will continue to increase with the new economic measures that President Nicolás Maduro announced last Friday, August 17, in which he presents a new devaluation to the bolivar and an increase in the minimum wage of 34 times its current value in the middle of the highest hyperinflation in the world.