Argentines turnout to the streets to demand end to corruption and Cristina Fernandez immunity
Wednesday, August 22nd 2018 - 06:43 UTC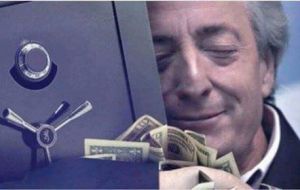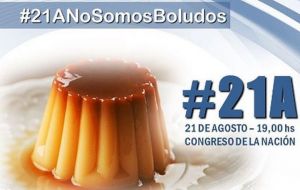 A massive demonstration concentrated in front of Argentina's congress in down town Buenos Aires to demand the removal of ex president and now Senator Cristina Fernandez immunities and the approval of a "dominium extinction" which would force "corrupt politicians" to return stolen money and assets.
The Tuesday evening protest which was repeated in the main cities of Argentina despite the chilling weather, was originally convened in social networks by the ruling coalition of president Mauricio Macri to press on Congress and force the opposition to approve the search of ex president Cristina Fernandez properties, and the "return of stolen money" bill, but rapidly turned into spontaneous demonstrations with Argentine flags.
Banners, songs and rhymes such as "return the money", "Argentina without Cristina", "rip off Cristina's immunity" or NSBs "we are not bums", and a free interpretation of the Argentine national anthem referred to corrupt politicians flooded the night in Buenos Aires and most provincial capitals.
The massive turnout is a direct consequence of the current investigation of the so called "K corruption notebooks", kept by a chauffeur contracted by the Federal Planning ministry and who for years meticulously described names, times and places where he drove messengers with sacks full of money to different addresses, including the official residence and private home of the then presidents, Nestor Kirchner and later his wife Cristina Fernandez de Kirchner.

The money was collected mainly from contractors of public works which were arbitrarily awarded to a ring of companies that allegedly paid anywhere between 15% and 20% in advance once the contract was formalized.
Judge Claudio Bonadio is in charge of the case and has repeatedly requested Cristina Fernandez be deprived of her immunity and be allowed to inspect her properties, allegedly with hidden vaults where some of the collected money could still be deposited. Her late husband and ex president Nestor Kirchner was known to have a pathologic narcissist attraction for cash, millions of dollars. Witnessed have testified that he would slap them if the sacks of corruption money were full of Argentine pesos instead of US dollars.
It is estimated that tens of thousands turned out in Buenos Aires in the square and avenues surrounding congress including a huge inflatable of the Greek goddess of Justice and in some corners vendors sold flan, a typical Argentine pudding which became viral in networks after a well known artist was asked, on prime time, to describe the current economic and social situation of Argentina.
"I want flan; I want flan" was the insistent reply of the artist every time he was asked about Argentina. He referred that after a fire burns down your home, he asks the family what's next and they simply reply "I want flan, I want to have flan". That is "how I see Argentina now, I want flan". Nobody seems to realize how serious the situation is after at least ten years of mismanagement and looting.
Opposition leader Senator Miguel Pichetto, who in the two previous occasions managed to postpone the vote on searching Cristina Fernandez properties, anticipated that this Wednesday there will be quorum and enough votes to approve the initiative. Likewise the opposition apparently is willing to address the "Extinction of Dominium" bill which refers to the State recovering all assets lost and or swindled by corrupt officials.
Faced with this scenario Cristina Fernandez made public a letter to her peers saying there was no inconvenience to having her properties inspected although she added some conditions: no television cameras, no photos, the presence of a Senator named by her, and that Judge Bonadio does not destroy walls, floors or ceilings.
Apparently in the last attempt the Argentine Federal Police did visit and inspect, with picks, two flats in the building in Buenos Aires where Cristina Fernandez lives, and which apparently were empty but belonged to a front-man and associate of hers.
Carlos Jones