Opinion polls confirm Lula's popularity and rattles markets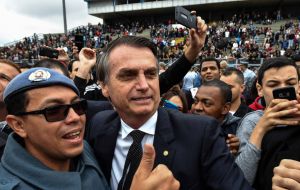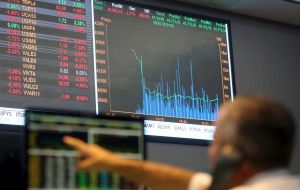 The popularity of imprisoned former Brazilian president Lula da Silva has grown strongly despite his corruption conviction, an election poll on Wednesday showed, a result that rattled markets and raised the possibility that Lula's running mate could ultimately become the next occupant of the country's presidential palace.
Investors reacted unfavorably to the poll, sending Brazil's currency down 0.8% to 4.08 Reais to the U.S. dollar, near an all-time low.
Lula, the candidate for October's presidential election for the Workers Party (PT), which he founded, is almost certain to be barred from running by an electoral court. Brazilian law forbids the candidacy of anyone whose conviction has been upheld on appeal, as is the case with the charismatic former president.
In a Datafolha poll published by the Folha de S.Paulo newspaper and Globo TV, Lula easily led all contenders when his name was included, winning the support of 39% of those surveyed. Far-right candidate Jair Bolsonaro was in second place with 19%, while environmentalist Marina Silva took 8%. If Lula's name is excluded, Bolsonaro leads with 22% and Marina Silva jumps to 16%. Other polls this week had similar results.
The PT's strategy is to keep Lula's candidacy alive for as long as possible, then work to transfer his support to his running mate, former Sao Paulo mayor Fernando Haddad, who polled just 4% in the Datafolha survey. The poll found that 31% of respondents said they would definitely vote for Lula's handpicked successor if Lula is barred from running, while another 18% said that "perhaps" they would vote for a Lula-backed candidate.
Lula's ability to transfer votes to Haddad is expected to grow as political ads begin to be aired at the end of this month. The PT is expected to pull out all stops to link Haddad to Lula in its ads.
In the Datafolha poll, business favorite center-right candidate Geraldo Alckmin remained stuck in single digits with 9%, up from 7% in June.
Under Brazil's strict election campaign advertising rules, Alckmin will have more TV ad time than any other candidate because of his large coalition, but it remains to be seen if marketers can transform him into a viable candidate.
Center-left candidate Ciro Gomes, a former governor of Ceará state in Brazil's poor Northeast, has held steady at 10%. Gomes has failed to draw the support of Lula voters he would need to become the new standard bearer of Brazil's left. Datafolha surveyed 8,433 voters across Brazil Aug. 20-21. The poll has a margin of error of two percentage points.