Argentine Peso slid another 2.18% and the Central bank sold US$ 350 million in reserves
Wednesday, September 5th 2018 - 08:16 UTC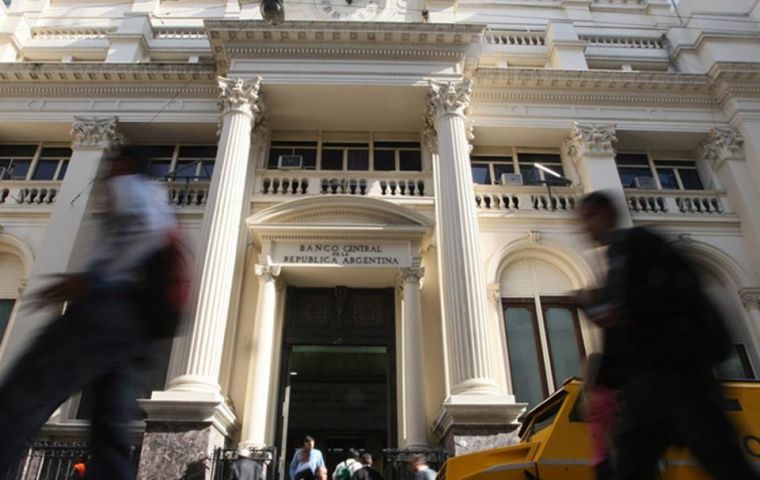 Argentina's peso slid further on Tuesday as investors reacted with skepticism to president Mauricio Macri's plans. Many worry he will not be able to push reforms through a restive Congress amid growing frustration on the streets of Buenos Aires.
"It's hard for the market to believe that a country like Argentina can hit its new fiscal targets over the short term," said Sebastian Cisa, with Buenos Aires-based brokerage SBS.
Meanwhile the opposition Peronist movement held a meeting of congress members and provincial governors to analyze the situation and sent a message to Macri: "we want to know about the discussions in Washington, and not read about them in the media". Besides they decided to suspend all budget discussions in Congress until the full agreement with the IMF is known.
In Buenos Aires the Argentine central bank sold US$ 358 million in reserves at auctions on Tuesday to help prop up the peso, which nevertheless fell 2.18% to 39.65 to the U.S. dollar. Last week alone, the currency lost 16% of its value.
Likewise Argentina's Merval stock index fell 3.72%, with traders citing doubts about the government's ability to make good on new fiscal plans as Latin America's third-largest economy slides into recession this year.
Argentina's current IMF deal includes fiscal targets that Argentina says it wants to strengthen as part of its effort to gain the market's trust.