Macri will receive the Global Citizen Award for his commitment to economic reform
Tuesday, September 11th 2018 - 09:50 UTC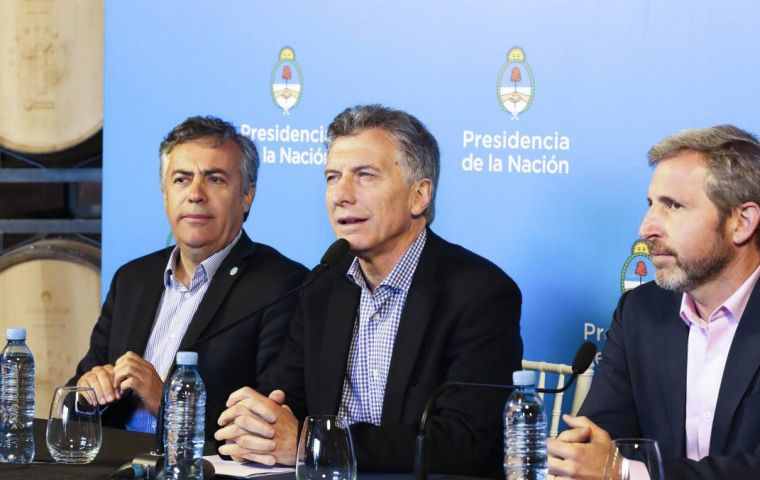 Mauricio Macri, president of Argentina, Erna Solberg, Prime Minister of Norway and Hamdi Ulukaya, founder, chairman and CEO of Chobani and founder of the Tent Partnership for Refugees, will be honored by the Atlantic Council with the Global Citizen Awards, during a ceremony on the evening of September 24 in New York, NY. All three distinguished honorees have confirmed attendance and will speak at the event.
"At this period of rapid global change and uncertainty, these awards send a particular message regarding the brand of consistent, principled and purposeful leadership that our times require," said Frederick Kempe, Atlantic Council President and CEO. "Through these awards, we have tried not only to salute unique individuals such as these three leaders, but in doing so also inspire others to be better global citizens."
The Atlantic Council salutes President Macri for his tireless and uncompromising dedication to his country and people through his pragmatic approach to policy, commitment to economic reform and revitalization, and renewal of relations with international partners exemplified by Argentina's current presidency of the G20.
It honors Prime Minister Solberg for her exemplary contributions to her nation and the global community, demonstrated through her dedication to ocean conservation and sustainable environmental policies, as well as improved quality and access to education around the world. We will also celebrate the strong US-Norway bilateral relationship.
The Atlantic Council will also honor Hamdi Ulukaya for his inspirational achievements as a business leader, and his devotion and commitment to improving the livelihoods of refugees. Through the establishment of the Tent Partnership for Refugees, Ulukaya is raising awareness of the ongoing refugee crisis and working to positively impact the lives of millions.
The Atlantic Council Global Citizen Awards, their ninth edition, honors those individuals who best exemplify "Global Citizenship" through their unique contributions toward improving the state of the world, and salutes them before an audience of 500 global government, business, and civil society leaders.
Past honorees have included US Presidents Bill Clinton and George H.W. Bush, Prime Minister Justin Trudeau of Canada, President of the Republic of Korea Moon Jae-in, Bono, Her Majesty Queen Rania Al Abdullah of the Hashemite Kingdom of Jordan, and IMF Managing Director Christine Lagarde.
But there is a catch to the honor for Macri, particularly when Argentina is in need of US support. In effect the Atlantic Council are no fans of president Donald Trump: the think-tank is closely linked to the Democrats, the New York Times, supported Hillary Clinton in the 2015 presidential election and several of its members joined the Obama administration. Last but not least, they have received funds from overseas countries among which Turkey and Norway.