Skripal poisoning case: Russian official television mockingly interviews the two "civilian" suspects
Friday, September 14th 2018 - 09:32 UTC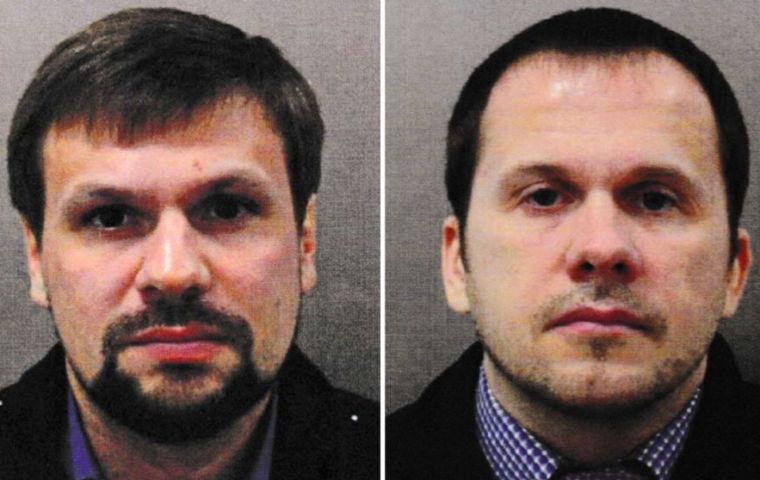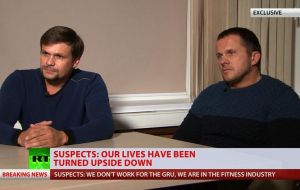 Two men named as suspects in the poisoning of a Russian ex-spy in the UK have said they were merely tourists. The men, named as Alexander Petrov and Ruslan Boshirov, told the state-run RT channel they had travelled to Salisbury on the recommendation of friends. The UK believes the men are Russian military intelligence officers who tried to kill Russian ex-spy Sergei Skripal and his daughter Yulia in Salisbury last March.
"The lies and blatant fabrications in this interview given to a Russian state-sponsored TV station are an insult to the public's intelligence," Prime Minister Theresa May's spokesman said. On Wednesday Russian president Vladimir Putin said "there is nothing criminal about them" and called them "civilians".
The Skripals survived being poisoned by the nerve agent Novichok, but Dawn Sturgess - a woman not connected to the Russian events - died in July having been exposed to the same substance.
Appearing nervous and uncomfortable, the men confirmed their names as those announced by the UK investigators - Alexander Petrov and Ruslan Boshirov. "Those are our real names," they said.
RT is Russia's state-run international broadcaster, and the pair were interviewed by its chief editor, Margarita Simonyan. "Their passports match and the photos and the information from the British side shows it's these people," she said.
The men said they worked in the sports nutrition business and had travelled to London for a short holiday, fitting in a couple of day trips to Salisbury. "Our friends had been suggesting for a long time that we visit this wonderful town," Mr Petrov said.
They said they only stayed an hour in Salisbury on Saturday 3 March because of the snowy weather conditions, but returned on Sunday 4 March to visit the sights. The two men admitted they may have passed Mr Skripal's house by chance "but we don't know where it is located," Mr Petrov said.
When asked about Novichok, they emphatically denied carrying it, or the modified Nina Ricci perfume bottle which UK investigators say contained the substance. "For normal blokes, to be carrying women's perfume with us, isn't that silly?" Mr Boshirov asked.
The two men told RT their lives had been "turned upside down" by the allegations. "We're afraid to go out, we fear for ourselves, our lives and lives of our loved ones," said Mr Boshirov.
The BBC's Sarah Rainsford in Moscow described the interview as carefully choreographed and bizarre, pointing out that in tone and content it matched the whole Russian response to the case - flat denial mixed with mockery.
The British police believe the men to be officers of Russian military intelligence, GRU, who may have travelled on false passports to London from Moscow in March. They say the purpose of the men's visit to Salisbury on 3 March was reconnaissance, and on 4 March they returned to apply Novichok to the Skripals' front door.
The UK Crown Prosecution Service (CPS) says there is enough evidence to convict the two men, although it is not applying to Russia for their extradition because Russia does not extradite its own nationals.
However, a European Arrest Warrant has been obtained in case they travel to the EU, and UK Home Secretary Sajid Javid has warned that the men will be caught and prosecuted if they ever step out of Russia.