Falklands at UK key party conferences, six months ahead of Brexit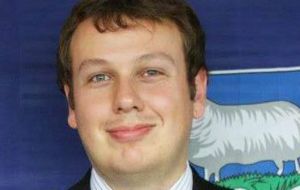 Falkland Islands Members of the Legislative Assembly Mark Pollard and Stacy Bragger are travelling to the UK to attend Labor and Conservative Party Conferences. This is a special year for British politics given the ongoing Brexit debate, and countdown to UK leaving the European Union on 29 March 2019.
The UK exit will have a still unknown impact on British Overseas Territories, and in particular for the Falkland Islands, since most of its foreign trade and export revenue comes from the EU, as well as Brussels financing for several development and conservation programs.
The Labour event will be taking place in Liverpool from Sunday 23 September to Wednesday 26 September.
The Conservatives are holding their annual conference in Birmingham from Sunday, 30 September to Wednesday, 3 October.
MLA Bragger said that with MLA Pollard they will be attending the Labour Party event in Liverpool before moving to the Conservative conference in Birmingham.
"I feel attendance at this year's conferences is particularly key given the current Brexit talks and it will be important for us to make the most of this opportunity.
"We'll also be doing some public relations work either side of the party conferences".
As usual Sukey Cameron, MBE, head of the Falkland Islands Government Office in London will be part of the delegation, given her long experience in these events, knowledge of UK politics and list of contacts.
According to Labour's official site the Liverpool event is expected to attract the attendance of over 13.000 people, with some 450 fringe events. Likewise the Conservatives expect some 11.000 people, some 450 events and 100 stands.