Cristina Fernandez denies any hidden cash or values: "they can dig up all of Patagonia"
Wednesday, September 19th 2018 - 09:07 UTC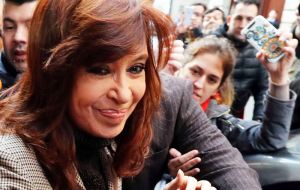 Argentina's ex-President Cristina Fernandez said on Tuesday that she never received corrupt payments and challenged investigators to scour her home region of Patagonia if they believed she had hidden cash, a day after she was indicted on graft charges.
Using her immunity as a senator to refuse to answer any questions, Fernandez handed a written statement to the federal judge investigating a sprawling bribery scandal that has ensnared dozens of former officials and construction company executives. The statement was published on her party's website.
"They can dig up all of Patagonia, but they will never find anything because I never received any illicit money," the statement said, citing official allegations that cash was kept in underground vaults at Cristina Fernandez's private residence or hidden in containers in the southern Argentina countryside.
Federal Judge Claudio Bonadio said in the indictment that officials had found empty vaults under the house, but no money.
Cristina Fernandez, president from 2007 through 2015, is accused of heading a network in which officials in her administration forcibly took bribes from construction companies in exchange for public works contracts.
Known as the "notebooks" scandal, the allegations arose in August after a local newspaper published diaries kept by a former government chauffeur, who said his notes documented hundreds of millions of dollars delivered to the offices of Cristina Fernandez and her late husband and presidential predecessor Nestor Kirchner.
"There is no evidence that links me to this alleged network," Fernandez's statement said. She was previously indicted on corruption charges in 2016 after her former public works secretary was caught trying to hide bags of cash in a convent.
Cristina Fernandez's current position as a senator grants her immunity from arrest, but not from investigation.