Pope says he will appoint Chinese bishops, following on the Beijing/Vatican accord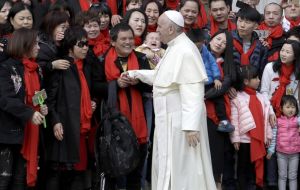 Pope Francis on Tuesday defended a landmark deal between the Vatican and China on the appointment of bishops, saying he, and not the Beijing government, will have the final say on who is named. In his first public comments on the deal signed in Beijing on Saturday, he told reporters on the plane returning from a trip to the Baltics that while he realizes not everyone will understand the logic behind the agreement, he was confident in the "great faith" of Chinese Catholics.
"It's not (that the government) names them. It is a dialogue. But the pope will appoint them. Let that be clear," he said of the deal, which was more than 10 years in the making.
The deal gives the Vatican a long-desired say in the choice of bishops in China, though critics labeled the deal a sellout to the Communist government. In future, new bishops first will be proposed by members of local Catholic communities together with Chinese authorities. The names of candidates will be sent to the Vatican.
China's approximately 12 million Catholics have been split between an underground church swearing loyalty to the Vatican and the state-supervised Catholic Patriotic Association. The Vatican said the absence of a deal could have led to a schism between Chinese Catholics that would have been difficult to heal.
"I think of the endurance of the Catholics who suffered. It is true that they will suffer. There is always suffering in an accord, but they have great faith," the pope said.
With the agreement, which both sides have said is provisional, the Chinese government effectively recognizes the pope as leader of all Catholics in China. Even before it was signed, the prospects of such an agreement had divided communities of Catholics across China, some of whom fear greater suppression should the Vatican cede more control to Beijing.
The pope tried to allay these fears, saying, "When there is a peace accord or a negotiation, both sides lose something ... and we will move ahead." He added "this was no improvisation. It is a journey, a real journey," he said.
One of the most vocal critics has been Cardinal Joseph Zen, the 86-year-old former archbishop of Hong Kong. "They're giving the flock into the mouths of the wolves. It's an incredible betrayal," Zen said in an interview two days before the agreement was signed. Its details will not be published.
Asked about such opposition to the agreement, the pope said: "Let us pray for those who do not understand and for those who have been worshiping underground for so many years."
As part of the deal, the pope recognized the legitimacy of the seven remaining state-appointed Chinese bishops who had been named without papal approval and that they had re-admitted them into the Church. A Vatican statement issued when the agreement was signed on Saturday said it was "not political but pastoral."