President Macri asks for patience; poverty index shows 27,3% Argentines live in poverty
Friday, September 28th 2018 - 07:55 UTC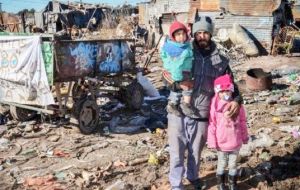 President Mauricio Macri on Thursday asked Argentines for patience in weathering an economic crisis this year and pledged to increase social spending in the coming months, a day after reaching a US$ 57.1 billion deal with the International Monetary Fund.
In a televised statement, Macri promised to increase social spending to protect the poor and acknowledged the coming months would be difficult for Argentines suffering from a sharp contraction in Latin America's third-largest economy.
Official data on Thursday showed that the share of Argentina's population living in poverty rose to 27.3% in the first half of the year, up nearly two percentage points from the second half of 2017. This means some twelve million Argentines are living in poverty conditions and the situation could worsen in the second half.
Macri, who is expected to seek re-election next year, had made reducing poverty one of the key aims of his four-year term and he asked Argentine's to keep faith in his government. The IMF deal calls for austerity measures to balance Argentina's budget next year - excluding the cost of debt servicing.
"We have difficult months ahead, but if we keep our eyes on the goal, the goals we've had since the beginning, we will reduce poverty," Macri said, adding that an economic adjustment was needed to end decades of cyclical crises in Argentina.
"We are setting out on the only path that will improve our lives, and the lives of our children," he said.
In an effort to restore investor confidence, and to bolster Argentina's battered peso currency, Macri's government agreed on a record lending package with the IMF on Wednesday. It includes a further US$7.1 billion in funding versus a previous standby facility signed in June.
The peso, however, slipped on Thursday as investors worried the program, which assured the government's funding until the end of next year, could do more harm than good to the economy and leave foreign exchange markets volatile.
The Argentine Peso was 2.9% weaker at 39.7 per U.S. dollar, after having reached over 40 Pesos in mid afternoon trading. It has lost more than 50% of its value this year despite the central bank hiking benchmark interest rates to 60%.
"The key still lies in implementation of the government's fiscal squeeze, which would be one of the largest undertaken by a country in an IMF deal," Capital Economics wrote in a research note. "The risk of slippage ahead of elections in October 2019 is high."
The IMF program introduces a trading band for the peso between 34 and 44 to the dollar, which depreciates daily at a rate equivalent to 3% per month. Below that rate, the central bank can sell up to a modest US$ 150 million a day to support the peso.
Other than the central bank, there are few sellers of hard currency in the market following recent turbulence and a poor harvest because of a devastating drought, and the new rules could lead to price swings in the short term, according to local forex operators.
New central bank chief Guido Sandleris, who took office on Tuesday after his predecessor unexpectedly resigned, is also tasked with shrinking its balance sheet and targeting zero growth in the monetary base over the next year. Argentina's monetary base has been growing at more than 2 percent monthly.