UNHCR calls "monumental crisis" the migration of Venezuelans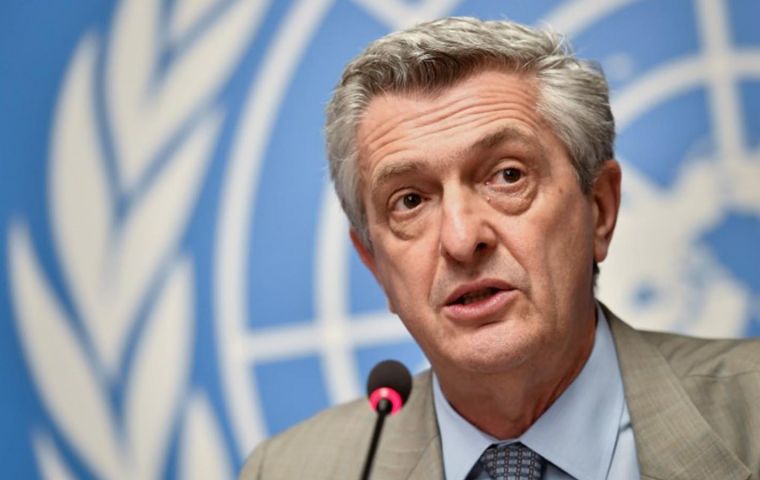 The UN High Commissioner for Refugees, Filippo Grandi, made a visit to the Colombian-Venezuelan border to understand the dimensions of the exodus of Venezuelans that, according to the UN statistics, 1.9 million have left Venezuela since 2015 due the Venezuela's economic and social situation.
"Being here symbolizes the will of the international community to be close to Colombia in this very important effort to respond to a monumental crisis," said the UN envoy from border city of Cúcuta.
Grandi said that after his trip he could understand the dimensions of the exodus, despite the fact that the government of Nicolás Maduro insists on denying the emergency that has triggered hyperinflation and the chronic shortage of food and medicines, AFP reported.
During his trip, the UN High Commissioner for Refugees (UNHCR) inaugurated a medical center in Cucuta with the capacity to serve 320 people daily, including Colombians and Venezuelans, who have migrated because of the situation in the oil country.
The center, which will also offer protection to minors, was built with the support of the United Nations Agency for Refugees (UNHCR) and the Norwegian Refugee Council, according to the Foreign Ministry.
According to the Colombian authorities, a migratory flow of one million people from Venezuela is in transit through its territory, of which 820 thousand have been temporarily regularized.
In a recent statement in Geneva, Grandi said that "some 5,000 people leave Venezuela every day now," in "the largest population movement in the recent history of Latin America."
On the other hand, the president of Venezuela, Nicolás Maduro, was reluctant to admit the migratory crisis in front of the UN General Assembly. The president asked the agency to "sincere" the statistics. At the same time it denies that there is a humanitarian emergency due to the serious economic situation whose hyperinflation process has already lasted one year.
Before continuing his journey and moving to Argentina, Grandi will meet Monday with the president of Colombia, Ivan Duque, who since coming to power on August 7 is exerting strong diplomatic pressure on Maduro, whose government qualifies as a " dictatorship".
According to UNHCR, the High Commissioner will visit Argentina to meet with representatives of the main ministries involved in the humanitarian response to the situation in Venezuela.