Falklands expecting some 41 ship visits this cruise season, which begins on Saturday with "Ushuaia"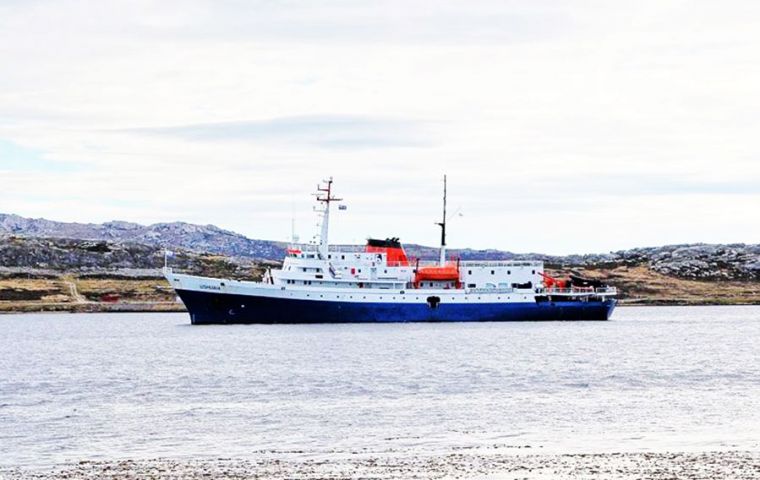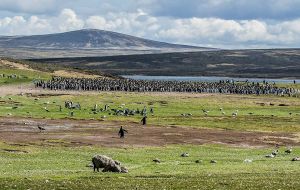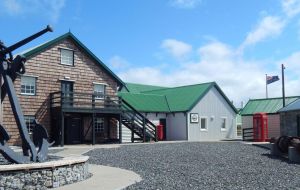 Some 41 ships are expected to visit the Falkland Islands this coming cruise season which begins on Saturday with expedition vessel "Ushuaia". Total calls in Stanley are estimated in 108 while some 170 in the Camp, but much will depend on the weather.
"Expedition ship Ushuaia will open the new cruise ship season, arriving on Saturday" confirmed Sulivan Shipping Coordinator Carli Sudder. Ushuaia will be closely followed by Sea Spirit, Zaandam, Midnatsol and MS Expedition during the following week. Penguin Travel Manager Marta Allendes said the Falkland Islands Company's (FIC) first vessel is the Zaandam next Friday carrying 1.440 passengers.
Ms. Allendes said: "We are expecting in total 29 visits as Port Agents," and Penguin Travel will be offering tour services to 24 larger vessels. She said this year they expect, "more than 44,000 passengers visiting Stanley on board FIC vessels," an increase of 10% on last year.
A new move for them will be to provide tour services, "to the visiting Celebrity ship, a vessel that we have been providing Port Services to for many years."
She said they were planning, "new excursions once our new FIC Launch arrives, we are also investigating tours that could see guests in kayaks. Capacity on a number of tours is increasing which will allow more of our guests to enjoy more of The Falklands."
Ms. Sudder was also optimistic for the season: "We hope to see 41 ships visit the Islands; over 108 calls to Stanley and 170 calls to Camp (this figures may change as the season goes on). This is an increase on last season."
New ships on the horizon for Sulivan Shipping as Port Agents, "include the Scenic Eclipse, the Seven Seas Explorer, Viking Sun, Azamara Pursuit and the Celebrity Eclipse. The RCGS Resolute will also be visiting the Falklands and most will recognise her as previously being the Hanseatic." She emphasised: "Sulivan will be continuing to provide agency, shore excursion and passenger turnaround services to the majority of the visiting vessels."
Port Agents behind the scenes
Asked how they prepared for the busy season Ms. Allendes said: "As soon as one season finishes we are preparing for the next one, this includes planning tours, confirming staff availability and of course submitting pricing to our clients. Although the season is only part of the year, the operation is all year round; Penguin Travel have a fleet of vehicles to maintain and this happens out of season too. "
She said they also "have to train our staff, drivers and guides and this includes courses such as first aid, we need to plan and order for packed lunches which are included in many of our longer tours and also create welcome packs for our guests."
FIC works in partnership with many landowners, "so it's important for us to visit them and to keep them informed of all the vessel dates and also to be updated by them on their needs to ensure we and our guests cause no harm to their land."
Both agencies attend overseas conferences in the winter; Sulivan Shipping both Seatrade and the International Association of Antarctic Tour Operators (IAATO) and FIC also attended IAATO.
Bus Company
Vital to the cruise ship industry operations are the bus companies that smoothly deliver thousands of clients to a wide variety of shore excursions.
Penguin News spoke to Dr Andrea Clausen owner of Falkland Islands Tours and Travel (FITT) who said: "We are gearing up; we've been working hard to ensure our fleet is ready for tours. And we have been in constant contact with our large bank of drivers and tour guides over the past few months, making sure their certificates are current and helping to get people additional qualifications where they are keen to expand their services."
Dr Clausen said they were working, "with both shore agents this summer for the first time (historically we have only provided services to Sulivan Shipping) and we look forward to ensuring that all of their guests get the best possible experience when they are travelling with FITT. We also have an ever growing list of independent groups for which we offer bespoke big bus tours."
Echoing the thoughts of everyone involved she said: "We hope the weather gods will be kind and keep the wind down so that all our guests can make their shore visit and enjoy the Falklands."
Restaurant
Having reached the shore by tender or at FIPASS the cruise ship passengers flock to the Falklands' cafes and restaurants in the hope of sampling local specialities Manager of Malvina House Hotel Carl Stroud said they were busy preparing for the season for cruise and land based tourists, "making sure enough staff are in place throughout the hotel and our food supplies are fully stocked.
The cruise ship especially is a fast paced service with the local squid, fish and chips and local lamb being the most popular dishes and the local beer a popular choice of drink. We always have an in-house bet on how many we can feed during a large ship visit
which is great when we achieve the numbers."
Mr. Stroud said: "We have introduced more tea and coffee and cake options this season which we hope will bring in extra diners later in the afternoon and we are putting in place some marketingideas to draw people to this side of Stanley."
Museum Visit
Arguably one of the most important stops for cruise ship visitors is the Historic Dockyard Museum opposite Malvina House Hotel.
Museum Manager Alison Barton confirmed: "We are very much looking forward to the new cruise ship season. We have had a pre-staff meeting with all of our casual staff to run through points and answer queries they may have. This year will be the first when the entrance fee is included in the Landing Fee so we are hoping it encourages more people to visit the Museum during their time ashore." She emphasised: "We have a
stalwart team of regular staff who help us each season and we also take on a few new people each year as having a large pool of staff allows flexibility as on cruise ship days – everyone needs staff." They have 12 casual staff "particularly for the summer season," said Mrs Barton."
She described the museum as, "a chance for them to find out about the Islands, its history and its people. Our display The Falklands Then and Now looking at the Islands 35 years on from 1982 proved very popular with the tourists last year, as they found out so much about what it is like to live here now, that we decided to keep it up for this summer season too. Of course the film on 1982 (Through Children's Eyes) is very popular and people ask about it and are very moved, it is showing the effects of 1982 from a local perspective, and from an angle that is not often covered."
Shore excursion
One of many popular shore excursions is a visit to the King Penguins at Volunteer Point.
Warden Derek Pettersson told Penguin News: "This season we seem to have very good king penguin numbers with around 600 chicks and about 1,500 adults at the moment. This goes up a bit more between now and December most seasons."
He said Gentoo penguin numbers seemed to be down slightly. "We are not sure why but for the past two seasons not all have laid eggs and brought up chicks. This may be due to the El Nino effect and not enough food around."
Magellanic penguin numbers are still very good, said Mr. Pettersson, "and many have started laying eggs."
He added, "At the house we are nearly fully booked up for the season and the next two as well." There is a problem though: "the track to Volunteer House is not very good after the past few very wet weeks we have had. There is a strong possibility that it may not be open for the first ship of the season on the 26th and we will also have to see if it will be open to all visitors on the 1st November."
He said they would inform agents soon, "and also announce in Penguin News when the track will open. There have been a few track repairs near Johnson's Harbour end but it has been too wet to do anything nearer Volunteer House yet. (Penguin News)
More information: Falkland Islands Tourism Board