Teatro Colón in Buenos Aires deemed most important opera house in the world
Saturday, October 20th 2018 - 18:15 UTC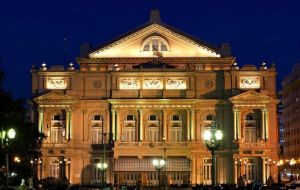 The Italian tourism website Travel365.it has found Buenos Aires' Teatro Colón to be the most important of its kind in the world due to its architecture and history.
The website described the Colón as "a true monument of theatrical, lyrical and acoustic art, undoubtedly the best of all time."
Buenos Aires Mayor Horacio Rodríguez Larreta posted on Twitter: "What a joy to know that @TeatroColon, the cultural symbol of the City and of Argentina, was chosen as the most important Theatre in the world."
The theatre belongs to the City of Buenos Aires and it's ran by officials appointed by the incumbent mayor.
That is the case of Teatro Colón Director María Victoria Alcaraz, who told a local newspaper that this acknowledgement was "an honour for the Teatro Colón and for the city of Buenos Aires this recognition, which renews the prestige and international significance of the first Argentine Coliseum."
Alcaraz added that "the distinction of leading a ranking as the best lyrical theatre in the world, within a list of famous opera houses, is the product of the talent and daily effort of artists and theatre workers to sustain the commitment of providing excellence to the local and international public."

The present Theatre, the second with that name, opened on 25 May 1908, after twenty years' construction. On its opening day, Aida was played by the Italian company directed by Luigi Mancinelli and tenor Amedeo Bassi and soprano Lucia Crestani (as Aida).
The full Travel365 "classifica" list:
1. Teatro Colón, Argentina
2. La Scala, Milan, Italy
3. Teatro Massimo, Palermo, Italy
4. Opera Garnier, Paris, France
5. Opera House, Vienna, Austria
6. Royal Opera House, London, England
7. Gran Teatro La Fenice, Venice, Italy
8. Metropolitan Opera House, New York, United States
9. State Theatre, Prague, Czech Republic
10. Fox Theatre, Detroit, United States
11. Opera House, Copenhagen, Denmark
12. Bolshoi Theatre, Moscow, Russia
13. Opera House, Sydney, Australia
14. Margravial Opera House, Bayreuth, Germany
15. Teatro San Carlo, Napoli, Italy