Lula on stage calls on "democrats" to unite and defeat the "fascist adventure"
Friday, October 26th 2018 - 08:49 UTC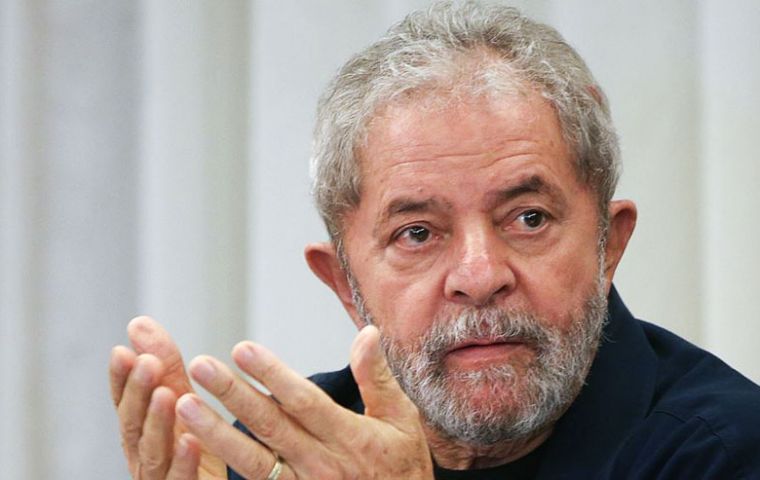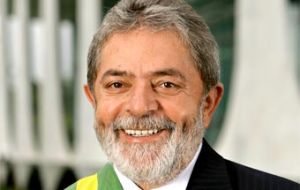 Jailed ex-president Lula da Silva called on "democrats" on Wednesday to put aside their differences and unite in a bid to defeat a "fascist adventure" in Sunday's presidential election run-off. Right-wing candidate Jair Bolsonaro is favorite to defeat Lula's Workers Party (PT) colleague Fernando Haddad in the weekend's two-horse race.
"We've arrived at the end of the electoral process with the threat of an enormous setback for the country, for democracy and for our suffering people," wrote Lula in a note published on Wednesday. "It's the moment to unite the people, the democrats behind Fernando Haddad's candidacy."
Lula would have been the man leading the PT challenge to Bolsonaro -- and widely expected to win -- but for his 12-year sentence for corruption, which he started serving in April. Having previously led the country from 2003-10, he remains widely admired, but likewise loathed by many.
One part of the population views him through the prism of the social inclusion programs of his mandate, while the other part sees him as the head of a party mired in scandals relating to bribes paid by state oil company Petrobras.
Since Bolsonaro and Haddad emerged from the October 7 election first round as the two clear leaders of a classic left versus right political battle, the PT candidate has struggled to attract more than "critical support" from the center and center-left. It's left him looking likely to lose on Sunday.
Lula, though, is pleading with political opponents to put aside their reservations and help prevent Bolsonaro from his seemingly unstoppable march to the presidency.
"If there are differences among us, we will confront them through debate," wrote Lula. "We cannot allow despair to lead Brazil towards a fascist adventure."
Ex-army captain Bolsonaro has previously expressed support not just for Brazil's 1964-85 dictatorship, but also its use of torture.
The Worker's Party came under fire from popular rapper Mano Brown on Tuesday as he hit out at the party's "blindness" in allowing Bolsonaro to seduce the popular vote. Speaking alongside Haddad at a campaign rally in Rio de Janeiro, where he was jeered by some in the audience, the rapper said: "I don't like this party atmosphere. The other side's blindness is also here. It's dangerous.
"I'm not pessimistic, I'm realistic," he added. "If we don't speak the people's language, we'll lose."
Bolsonaro took 46% of the vote in the first round, compared to Haddad's 29%. The former military man led the most recent poll by Ibope with 57% to Haddad's 43%.