Andean condors found dead of agrochemichal poisoning in Patagonia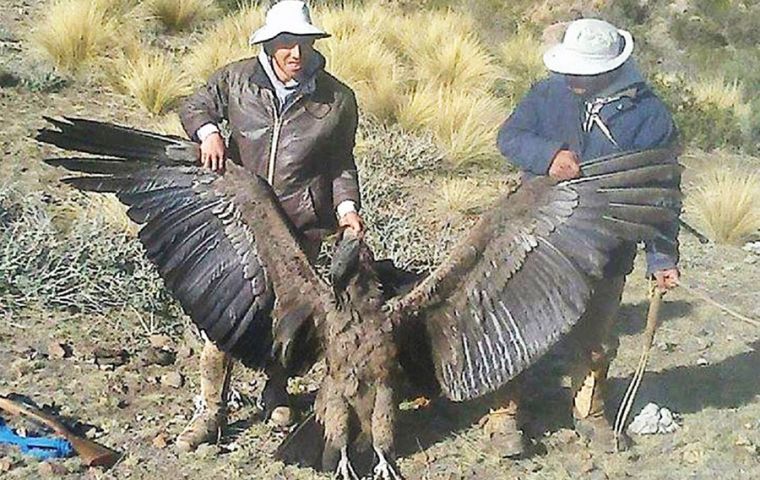 Wildlife and environmental organisations Monday denounced the deaths of 23 Andean condors in Argentine Patagonia due to the use of prohibited agrochemicals. Thirteen of the birds were found in Neuquén and the other ten in Santa Cruz.
The Fundación Bioandina Argentina and Aves Argentinas denounced on Monday that 23 Andean condors appeared lifeless in the Patagonia region.
Toxicological analysis proved that at least 13 of them died after ingesting a pesticide that is banned in the country.
According to the organisations, 13 of the dead condors, of the vultur gryphus species, were found in Manzano Amargo, Chos Malal, in the province of Neuquén, while the other ten were not far from the Cave of the Hands, in Perito Moreno, Santa Cruz.
A coordinated, swift effort by wildlife rangers made the discoveries and subsequent necropsies possible, it was reported.
The area has been cleaned up and other measures have been taken to prevent further deaths, Neuquen provincial authorities have announced.
Apart from the condors, dead cats, dogs and cows commonly used as bait have been found.
The toxicological studies conducted by Fundación Bioandina Argentina determined the cause of death was "a powerful organophosphorus pesticide, which is prohibited in the country."