Bolsonaro wants Brazil's top anti corruption judge as his Justice minister
Tuesday, October 30th 2018 - 07:23 UTC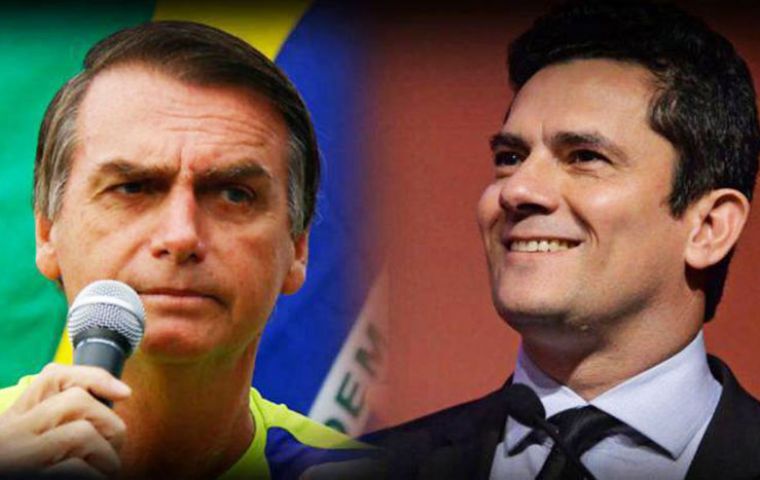 Brazil's president-elect Jair Bolsonaro says he wants the country's best-known anti-corruption judge to be justice minister or to serve on the Supreme Court. Sergio Moro has been the driving force behind an anti-corruption probe known as Operation Car Wash.
In his first TV interview since being elected, Mr. Bolsonaro also underlined his campaign pledge to loosen gun laws. The former army captain won a sweeping election victory on Sunday. However, his praise of Brazil's former dictatorship and his comments on race, women and homosexuality have raised concern.
The 63-year-old former paratrooper chose to give his first post-election interview to Record TV, a network owned by one of Brazil's biggest evangelical leaders. Bolsonaro relied on the support of evangelical groups in the run-up to the election.
He said he intended to speak to Judge Sergio Moro "soon" and invite him to the justice ministry or to the Supreme Court. Mr. Moro would be a person "of extreme importance in a government like ours".
Mr. Bolsonaro also indicated he would seek to loosen Brazil's gun laws this year, before he even takes office, insisting that more widespread gun ownership would help to cut crime. Relaxing gun laws was one of his flagship policies and he has suggested that "every honest citizens" should be able to own a gun.
Critics warn that such a move would only worsen violent crime in Brazil.
In interviews on Monday, Mr Bolsonaro also said: He would withdraw government advertising from media outlets he judged to be "lying"; He aimed to open up protected land to road and infrastructure projects; The budget deficit would be narrowed and state firms would be privatized.
Bolsonaro's PSL party achieved a breakthrough in this month's legislative election, increasing its representation from one to 52 seats in the lower house. But the Workers' Party, led by Mr. Bolsonaro's election rival Fernando Haddad, remains the largest party with 56 seats.
There will also be a record 30 parties represented in the next Congress. This suggests that finding backing for legislation could be difficult for the new president.
Federal judge Moro has been in charge of a major investigation into claims that executives at the state oil company Petrobras accepted bribes in return for awarding contracts to construction firms. In effect Operation Car Wash uncovered a huge web of corruption involving top-level politicians from a broad spectrum of parties.
However, the judge has also been criticized by many, especially those in the left-wing Workers' Party after jailing former President Lula da Silva on corruption charges. They say the former president has been the victim of a political witch-hunt.