Bolsonaro in favour of the right to bear arms
Wednesday, October 31st 2018 - 12:47 UTC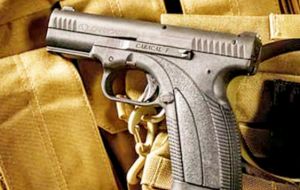 Brazil's President elect Jair Bolsonaro has vowed to push for a change in the current legislation which requires people to justify their need to carry a weapon in order to be given the mandatory license.
Bolsonaro's intention to shape Brazil after the United States looks clearer every day. In his view "Brazil is at war," with regards to the high crime rates and he expects violence to decline once the number of offenders killed by law enforcement agencies begins to rise.
In the United States, the right to bear arms is considered to preexist the Constitution, which expressly recognises in its Second Amendment. It has been ratified in numerous Supreme Court rulings and it is above what can be regulated by law.
Arms manufacturers in Brazil envision a plethora of opportunities ahead with Bolsonaro's victory as demand for weapons can only go up.
"With Bolsonaro we will have a greater satisfaction to operate in Brazil because he is a defender of the right of good people to have arms," said Paulo Humberto Barbosa, representative of UAE arms manufacturers Caracal.
Violence in Brazil registered more than 64,000 homicides in 2017, being one of the biggest concerns for citizens.