Several Army generals expected in Bolsonaro's cabinet to be announced next Monday
Wednesday, October 31st 2018 - 09:01 UTC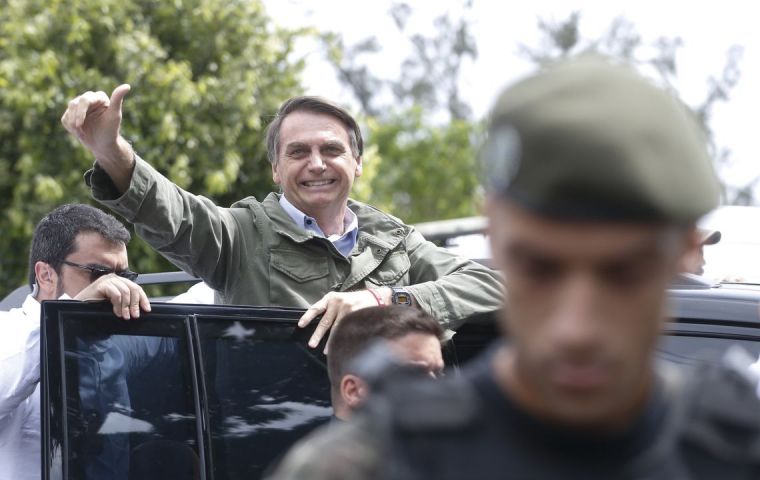 Brazil's far-right president-elect, Jair Bolsonaro, is likely to tap army generals and an ultra-free-market economist for key roles in his cabinet. The former army captain styles himself as an outsider, even though he has spent a long career in Congress, and has mostly sought prospective ministers with little political experience.
Mr Bolsonaro, 63, wants to slash the number of ministries from 29 to 15, and has vowed to end the practice of using cabinet appointments as bargaining chips to build coalitions with other parties, long a basic rule of the political game in Brazil.
"He wants to reinvent the way the country is governed by ending the presidency by coalition. It will be his biggest challenge," said Marcos Coimbra, a political strategist at Mackenzie Presbyterian University in Brasilia.
The cabinet to be announced next Monday, will have "four or five generals", according to the head of Mr Bolsonaro's Social Liberal Party, Gustavo Bebianno.
That is likely to be controversial in a country still scarred by a brutal military dictatorship that lasted from 1964 to 1985.
"By promising to name generals to his government, he is trying to create an image of order, but a lot of the likely picks have zero political experience. That will make it hard to negotiate with Congress," said Geraldo Mont¬eiro, a political scientist at Rio de Janeiro State University.
Bolsonaro's economic guru is Paulo Guedes, a liberal economist trained at the University of Chicago, which has long been the high cathedral of free-market ¬economics. He has been a popular pick with the business sector, ensuring that the markets welcomed Bolsonaro's march to the presidency with a surge.
Bolsonaro himself says he understands "nothing" about economics, and says he will name Mr Guedes, 69, to head a "super-¬ministry" bringing together the current ministries of finance, trade and planning, plus the secretariat for public investment.
The one experienced political operative in the line-up is Onyx Lorenzoni, tipped to be chief of staff, responsible for navigating the lion's den of politics in Brasilia.
"He has extensive experience in Congress, he knows how it ¬operates," Mr Coimbra said.
Mr Lorenzoni, 64, is a veteran politician, first in the state legislature of Rio Grande do Sul, then in the lower house of Congress, and was a chief strategist on Bolsonaro's campaign.
Bolsonaro is a gushing ¬admirer of Augusto Heleno Rib¬eiro, his military academy instructor in the 1970s and probable defense minister. The general, 71, was the first commander of Brazil's UN peacekeeping mission in Haiti, launched in 2004.
The president elect in an interview last year said Mr Heleno could have "any post he wants" in his government, and that he would have loved to be a minister in a Heleno presidency.
Another general, Oswaldo Ferreira, 64, is tipped for transport minister. The former head of the army's department of engineering and construction, he would be responsible for infrastructure and its environmental impact.
In a recent interview, he said that in his road-building days in the 1970s, "there was no prosecutor's office or Ibama (the environmental agency) to bust everyone's balls".
Marcos Pontes is a national hero in Brazil: the fighter pilot and astronaut, 55, was the first Brazilian in outer space. In 2006, he spent a week aboard the International Space Station, ferried there by a Russian Soyuz rocket. An avid Bolsonaro backer, he has been floated for the post of science minister.