US/China trade talks "moving along nicely"; Trump and Xi plan to meet at G20 in Argentina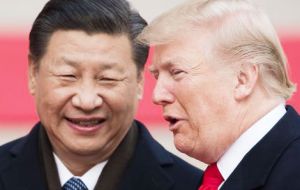 U.S. President Donald Trump and Chinese President Xi Jinping both expressed optimism on Thursday about resolving their bitter trade disputes ahead of a high-stakes meeting planned for the two leaders at the end of November in Argentina.
Trump said on Twitter that trade discussions with China were "moving along nicely," and that he planned to meet with Xi on the sidelines of the G20 leaders summit, after the two had a "very good" phone discussion.
In comments to state media, Xi said he hoped China and the United States would be able to promote a steady and healthy relationship, and that he was willing to meet with Trump in Argentina.
"The two countries' trade teams should strengthen contact and conduct consultations on issues of concern to both sides, and promote a plan that both can accept to reach a consensus on the China-U.S. trade issue," Xi said on CCTV state television.
Xi was quoted by CCTV as saying after the call with Trump that the two leaders had hoped to expand bilateral trade cooperation.
Neither leader specified any details of potential progress in their first known direct discussion in several months. Trump administration officials have said that trade talks with China cannot resume until Beijing comes up with specific actions it is willing take to meet U.S. demands for sweeping changes to policies on technology transfers, industrial subsidies and market access.
The two countries already have imposed tariffs on hundreds of billions of dollars of each other's goods and Trump has threatened to slap tariffs on the remainder of China's US$500 billion-plus exports to the United States if the disputes cannot be resolved.